A couple years ago I found out that I had a trip to two cities in Germany - Leipzig and Stuttgart. (I am a pilot in my other job.) I'd heard of Stuttgart (Home of Porsche) before, but I had to do some "googling" to find out about Leipzig. We were arriving into Leipzig after about a 12 hour flight from Japan, spending 1 night and then off to Stuttgart for a night.
The flight went well, and we checked into the Leipzig Marriott about 1 pm local time. After changing and dropping our stuff off in our rooms, we met in the concierge lounge for a local beer and to make plans. Here is the view from the lounge:
Apparently the building next door was going through some minor renovation; I was obviously worried that some extraneous noise may interfere with my looming nap plans. I was wrong. In fact, even though I consider myself a relatively seasoned traveler, I made a rookie mistake. I drank a couple local beers in the concierge lounge and decided to hit the room for a "nap" at about 3 pm local time. You can guess what happened next. I opened my eyes 8 hours later wide awake at 11pm. I sat up, hungry and angry at myself for screwing up my exploration plans. Now no place was open that served food, and I was going to have trouble getting any sleep the rest of the night. Thankfully I pack a couple power-bars in my flight case, and was eventually able to get to sleep again after watching 4 hours of German Sponge-Bob, Square Pants.
I remember it getting light pretty early, and I was wide awake so I went exploring. The Marriott actually had bicycles to borrow so I slung my camera over my shoulder and headed out into the cool morning.
I found out that there was a delightful old-town-esq area near the hotel rife with restaurants and pubs. (It would have been a perfect place to visit for dinner the night before if I wasn't drooling on my pillow.)
Unfortunately every place was closed, and not due to open for a few hours. Our pick-up from the hotel was around noon so I would have to be happy just looking around. I would have paid a lot of Euros, Dollars, Pounds, whatever - for a warm cappuccino.
The building across from the hotel was reminiscent of 1980s Beirut.
I did find a place open that served food, but I wasn't quite in the mood for watermelon.
This area would have been a nice place to spend part of afternoon the day before.
Here is an awful shot of the street our hotel was on. Look a person! The only people I saw up this early were construction workers.
I ended up at the hotel an hour or so after I left and had breakfast in the Marriott restaurant. (Don't judge me, it was open and had what I wanted.) I remember packing my suitcase, checking out and catching our ride back to the airport. We were treated to an Interesting sight on the ramp when we arrived at the airport. Look who was parked next to us:
KISS evidently had a gig in Leipzig the night before. (I missed that too while asleep.) We thought their paint job was interesting, but I'm not to sure how smart it is to paint flames on your engine. I can hear the tower transmission now, "Uh, Kiss-Love Gun 1, it appears your left engine is on fire...."
We must have been in good company, because on the other side of us this jet was parked: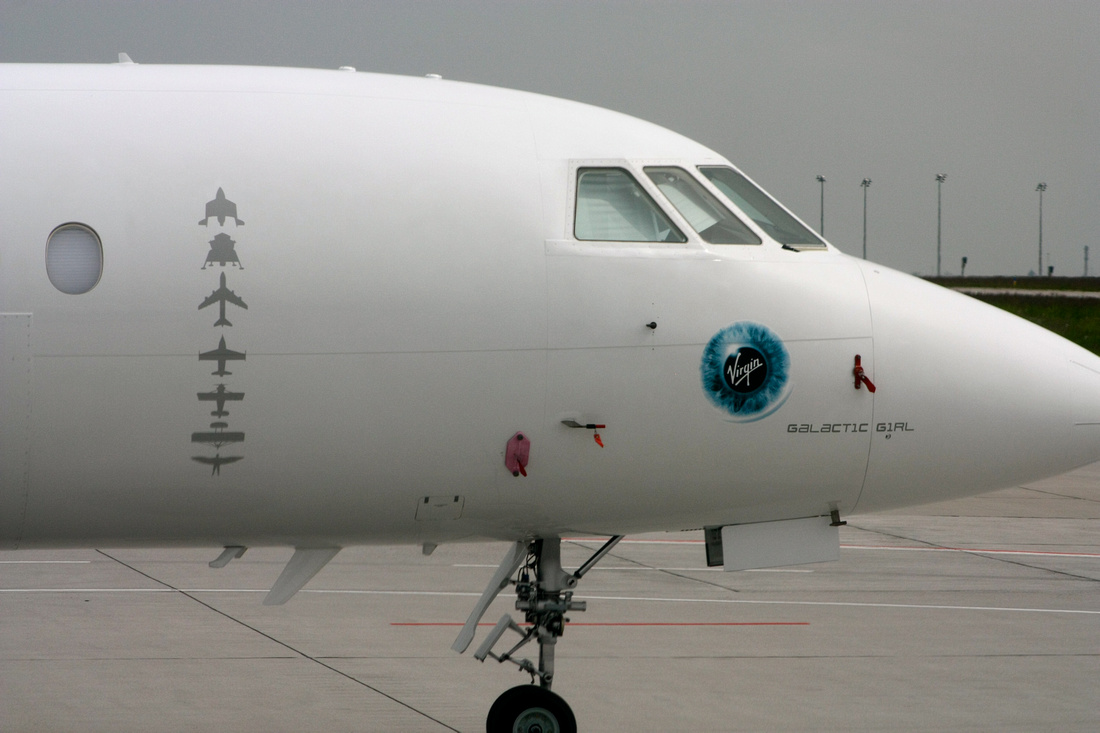 That is Richard Branson's (at least ONE of them) jet. I want to be him when I grow up.
Well, we then flew the short leg to Stuttgart. We stayed at a Marriott there too but it was in a sleepy residential area, not in the city center. We had dinner in the Hotel and flew back to Asia the next day.
What valuable lesson did I learn on this trip? I call it the 8:00 rule. When you travel, NO MATTER WHERE you find yourself in the world - always do what it takes to stay awake until at least 8pm local time. Don't take a "nap" at 3 in the afternoon. If you follow my highly scientific 8pm rule you will find yourself recovering from heinous jet lag in a much shorter time. Good travels….