In Central Turkey there is a region known as Cappadocia that is full of historical, geological, and cultural wonders. Sporting a surreal landscape rife with formations known as "fairy chimneys," ruins of underground cities and houses carved out of rock, Cappadocia is unlike any other place I have seen. I was lucky enough to visit this region a few years ago and bring back these images.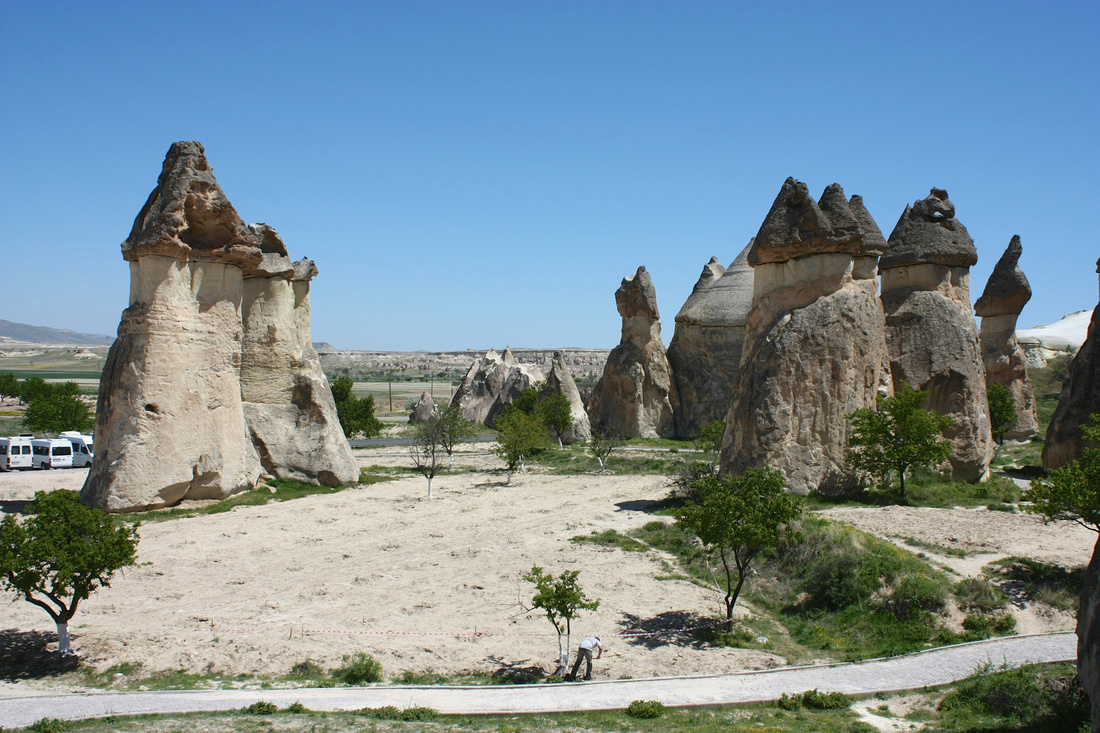 "Fairy chimney" rock formations.
Another fairy chimney. Notice how it looks taller when the shrubs at the base are kept well trimmed. ;)
I'm not sure of the exact geological make-up of the rock, but it must be very soft. Form of sandstone perhaps? Most larger outcroppings and cliffs sport carved facades and internal rooms. While constructing these living spaces out of solid rock must be a lot of work, the resulting structure offers good protection from the elements and decent insulation properties.
Just like a sandcastle, however, if you carve out too many holes in any structure the integrity becomes suspect.
To quote Steve Martin, "Got a condo made of stone-a!"
This "hotel" was a nicer compared to the previous structure.
I found the people friendly and mellow. This gentleman was selling sticks. Check out the wheels on his cart; love those spokes.
After walking around the beautiful landscape, nothing tasted better than a freshly-made pomegranate and orange smoothie!
This woman was walking through a wildflower-filled cemetery.
Cappadocia was indeed a special place. I've visited Turkey a few times before, but always the bustling metropolis of Istanbul (upcoming blog post.) To visit Cappadocia is to step back in time – and it seems, to another world. I halfway expected to see Tolkeinesqe creatures wandering about the eerie landscape. Unfortunately I didn't spot a hobbit, but I have an experience I will remember forever…