(HDR shot of old town Heidelberg taken from Heidelberg Castle.)
This summer I was lucky enough to take my family on a European vacation. We started out in London, and then flew to Germany (Stuttgart) where we rented a car. (Not a Porsche…) We spent one night in Rothenberg ob der Tauber (Check out my blog post here.) and the next day we drove down the Burgenstraße or "Castle Road" to Heidelberg. This post covers the drive, a tour of Heidelberg castle, and our night in Heidelberg.
(HDR shot from the top of a tower just off the Burgenstrasse)
(Autobahn sign shared from Wikipedia)
Navigating in Germany isn't too difficult – even if you don't speak German (I DON'T) as long as you have GPS. (And if you've figured out how to make it speak English.) The German highways, called the Autobahn are a joy to drive. The roads are wide, smooth, and FAST. Long sections of the Autobahn have no speed limit and even though I'm wise enough these days to understand "just because you can doesn't mean that you should" I'll admit to hitting 100 mph (161 kilometers per hour) in our little rental car.
Driving on the Autobahn isn't intimidating, you just have to do a little pre-study. There are areas with speed-limits. Here is an example of a speed limit sign:
(Image shared from AutoExpress Car blog)
The speed limit would then be 120 KPH. (About 75 MPH) The "fun sign" is this one:
(Image shared from Wikipedia)
This sign means "the previous limits no longer apply." It's okay to go fast. HOWEVER, you can't drive like a typical American. You can't just hang out in the left lane – it's strictly for passing or for uber-expensive Euro racecars. If you venture into the far left lane to pass, you BETTER be eyeing your rear-view mirror for somebody coming up on you at 200 MPH. As for passing on the right, it's illegal or verboten (You have to say it loudly and with a German accent.) Okay, enough driver's ed.
The drive from Rothenberg ob der Tauber to Heidelberg was wonderful. We had a little "navigational challenge" leaving Rothenberg when we were trying to intercept the Burgenstraße (GPS wanted to route the whole way on the Autobahn) but once we found the castle road the drive was a joy.
(iPhone shot out the window on the Burgenstraße. The bright yellow plant has the unfortunate name of Rape Seed.)
(Here are a couple quick iPhone shots of the typical castles that line the Burgenstraße.)
We had packed a picnic lunch in Rothenburg, and found a great place to eat along the drive. After lunch, we decided to attack this tower.
After the steep climb, we arrived at the top:

And were awarded with a fantastic view:
The big castle that we really wanted to tour that day was Heidelberg Castle. After taking more than a few minutes to find a parking spot that wasn't verboten we paid our handsome fee and entered the ancient structure.
Here is what Heidelberg Castle looked like back in the day: (Late 1600s):
Here is the castle today: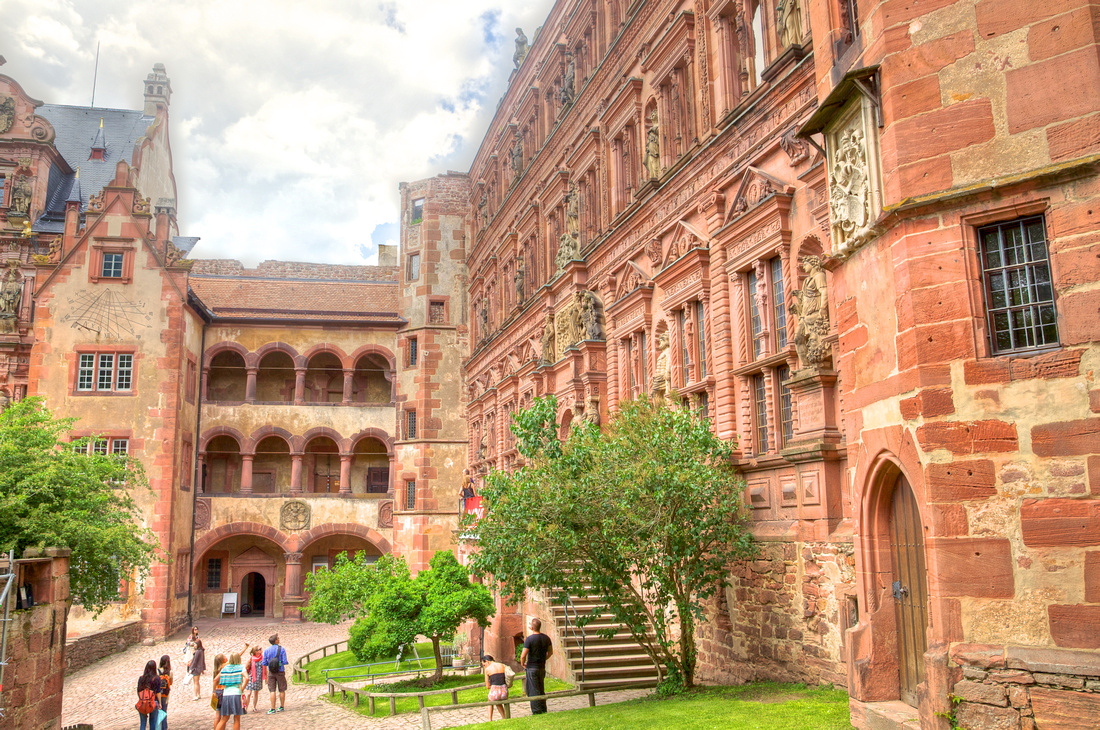 While much of the facades have been restored, much of the ramparts remain in disarray.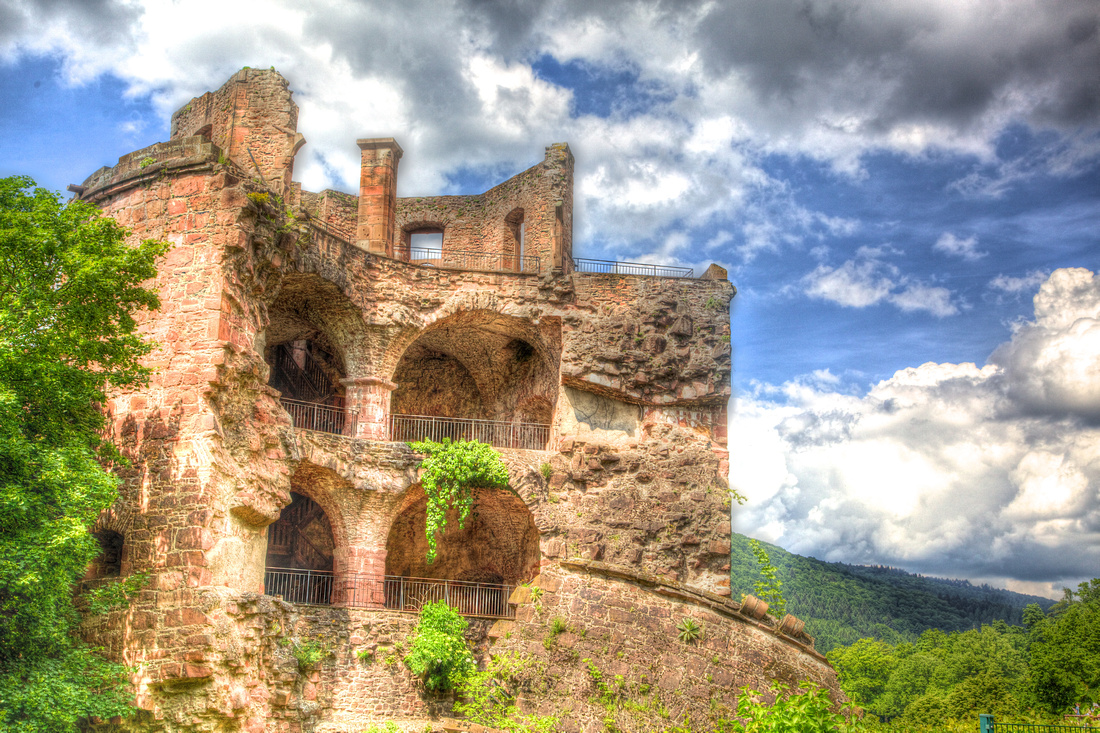 One thing they did right when they built the castle is they included an awesome deck. One side has a great view of the hillside: (This is our guesthouse… I wish.)
And the other side of the deck looks down on the town of Heidelberg.
(The girls at the castle overlooking Heidelberg.)
I've always been a bit of a castle-nut, and touring Heidelberg's was amazing. It was getting later in the day, however, and we still had to check into our hotel and return the rental car. Our plan was to take care of these two items, and then maybe walk around Heidelberg's old town. By this time on our vacation we had walked a fair bit, and I wasn't opposed to a little bit of late afternoon relaxation. We had booked a room at the Heidelberg Marriott, on points, and I imagined we'd get a small European-sized hotel room. What we got, however, was one of two roof-top suites the hotel offered. I travel a ton with work (I am a corporate jet pilot) and occasionally get to experience that awesome feeling when you get spontaneously upgraded to a nice suite. This feeling was like that, but on steroids. Our deck was HUGE and afforded us amazing views. We decided to order room service, get a bottle of wine and enjoy the sunset and the views.
(Here I am "squeezing" Heidelberg Castle from our hotel deck.)
Here is Jill finishing up Dan Brown's Inferno - we were heading to Florence in a few days.
(The sunset was great that night - the red building is the other wing of the Heidelberg Marriott.)
We all went to sleep happy that night and the next morning we woke up early and walked to the train station for the Switzerland portion of our vacation. Two nights in Germany was kind of brief, but we made the most of it. Having a rental car allowed us to operate on our own schedule and hit some of the more intimate and outlaying areas. I'm sure all of us would like to visit the castle region of Germany again soon. Prost!