(HDR image of the Brandenburg Gate)
I recently had the opportunity to visit Berlin for a few days. I'd been there before, but this time I was able to spend some quality time checking out its many facets. Berlin in February isn't the warmest destination (especially for a resident of Southern California) but I donned a warm coat, grabbed my Canon 5D mk II and set out to see what I could find to shoot on the 4 crisp days I was there.
I travel often for work (When I'm not taking pictures I am a business jet pilot) and often patronize the Marriott brand of Hotels. On this trip I stayed in the Berlin Marriott hotel located in the Potsdamer Platz area. Posdamer Platz feels like Berlin's "Time Square" and is one of the most significant modern building redevelopment areas in Europe. Tall glass buildings, interesting architecture, high-end hotels, and restaurants abound.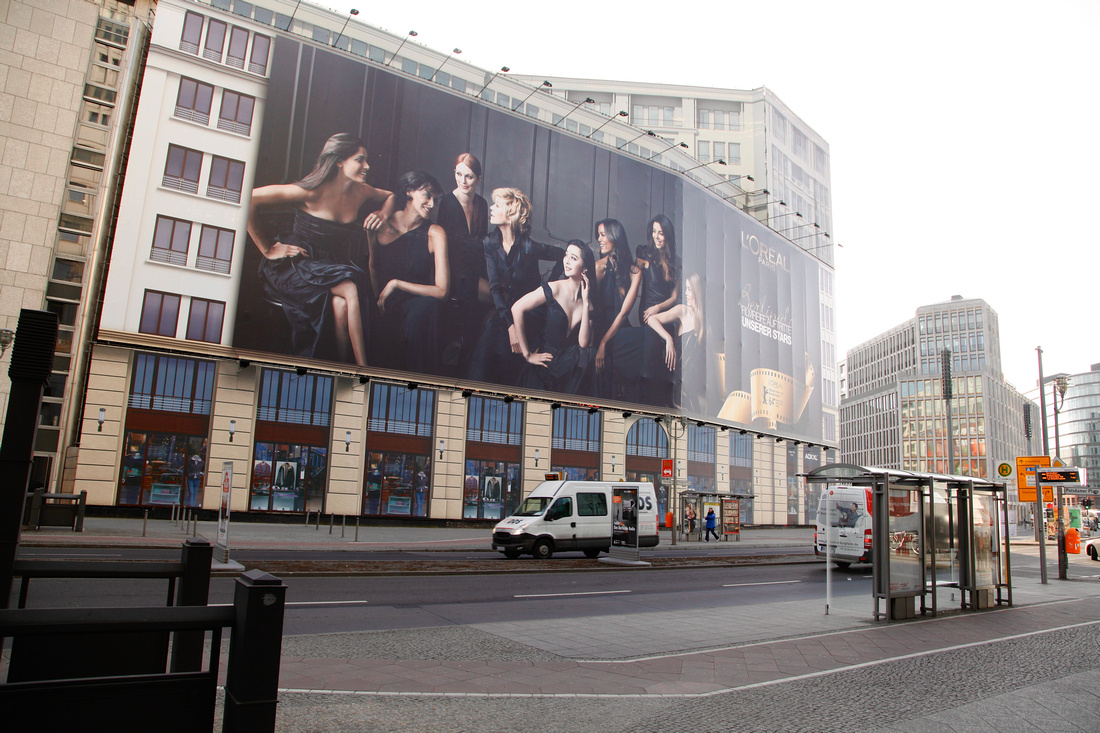 When I arrived the Berlin International Film Festival was just winding down and was centered in Posdamer Platz. Incidentally, just prior to my arrival actor Shia LeBuff was the center of a minor scandal where he showed up to walk the red carpet at the film festival with a paper bag over his head on which was written "I am not famous anymore." Our hotel lobby was full of festival attendees, and I recall enjoying a glass of wine in the lobby bar while a guy behind me was loudly pitching a movie idea to another guy where Eddie Murphy and Jonah Hill go back in time as 80's cops. (Sounds like a real winner….well, you decide.)
Around the same time of the film festival, Berlin fashion week was in full swing. Right in the center of Potsdamer Platz they had a temp building set up with make-up artists working on models.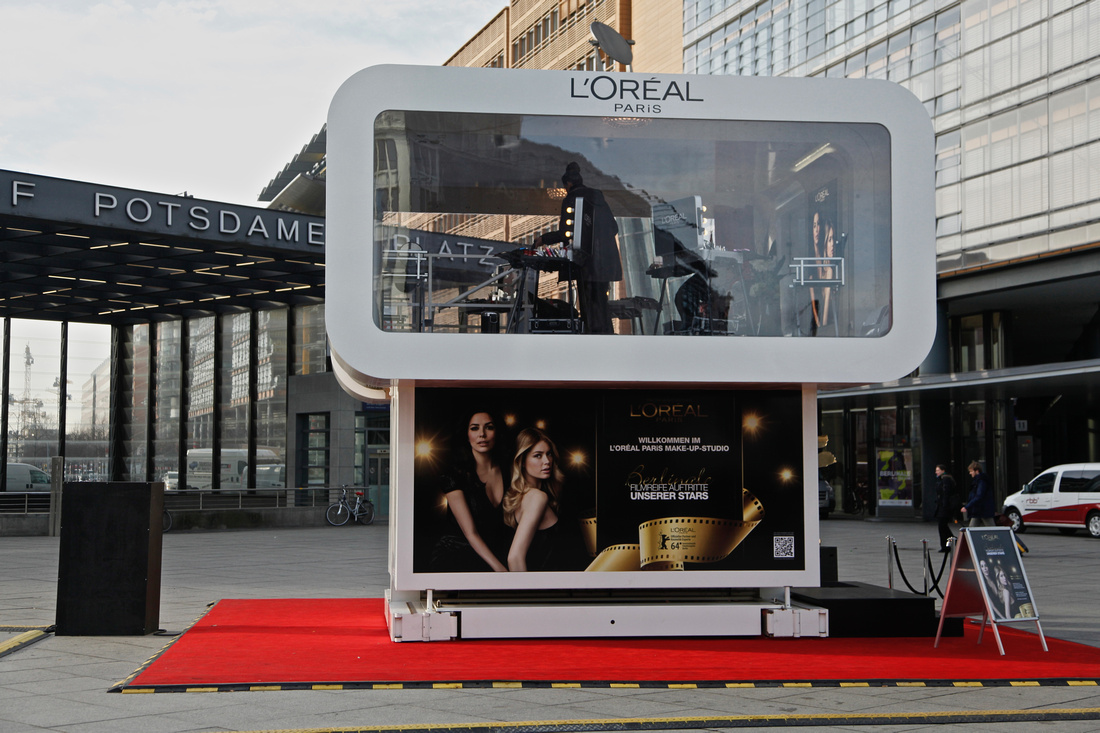 When I stroll around European cities I like to take in the old buildings and historic architecture. Rarely does one see cutting edge modern design… However, Postamer Platz is a showcase of such design. Check out the crazy Sony Center situated in this area.
Prior to my arrival in Berlin I was planning what I wanted to photograph in the well-known city, and one destination that really caught my eye was the Berlin parliament building, the Reichstag building. Initially built in at the end of the 1800s it has suffered fires, bombardment, etc. Right around the year 2000 a modern addition was completed that included a fantastic glass dome on the top. Anyone can tour the glass dome, but you have to submit visitor details in advance to their website here and then are assigned an appointment time (complete with an intense security check.)
The building is quite impressive as you approach it:
Once you arrive at the parade grounds in front of the main entrance the glass dome is fully visible.
After passing through some fairly intense security, boarding a huge elevator you arrive on the roof just outside the dome.
Before you enter the dome, you can pick up a high tech audio guide (for free) that senses your location in the dome and tells what I'm guessing are interesting tidbits of its purpose and construction. Unfortunately I picked up a German only audio guide, and as my German is limited to "danke", "bitte", and "pilsner" it wasn't much use to me. Even without the audio guide, the interior of the dome was spectacular.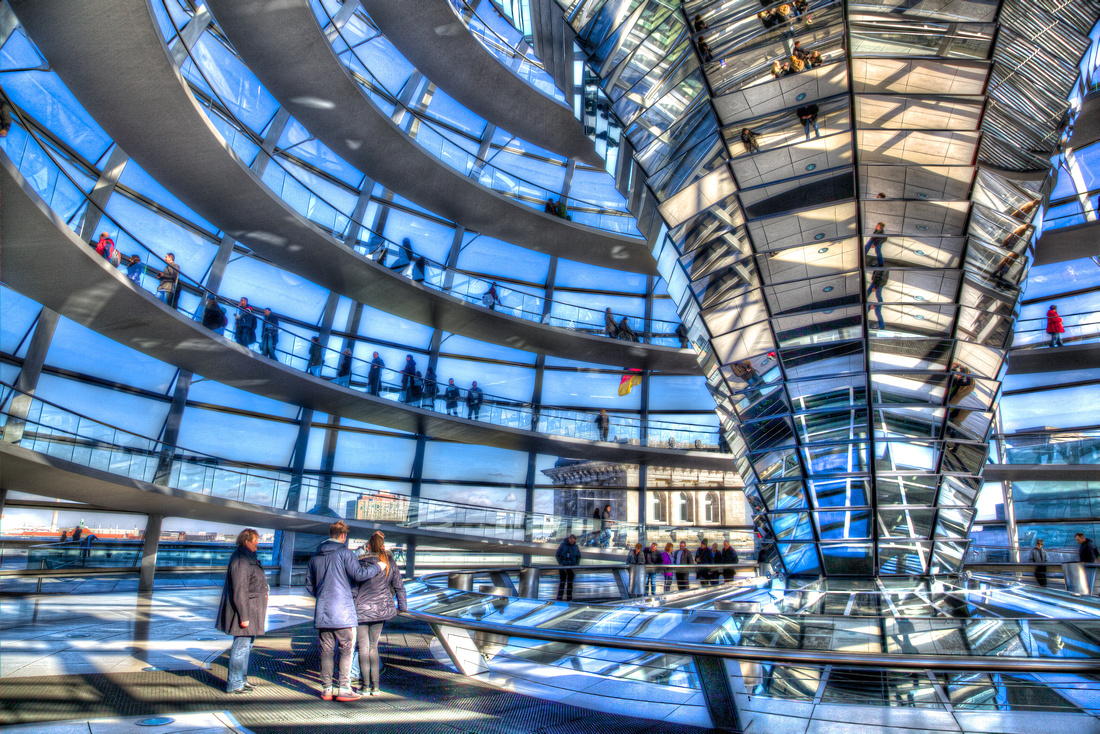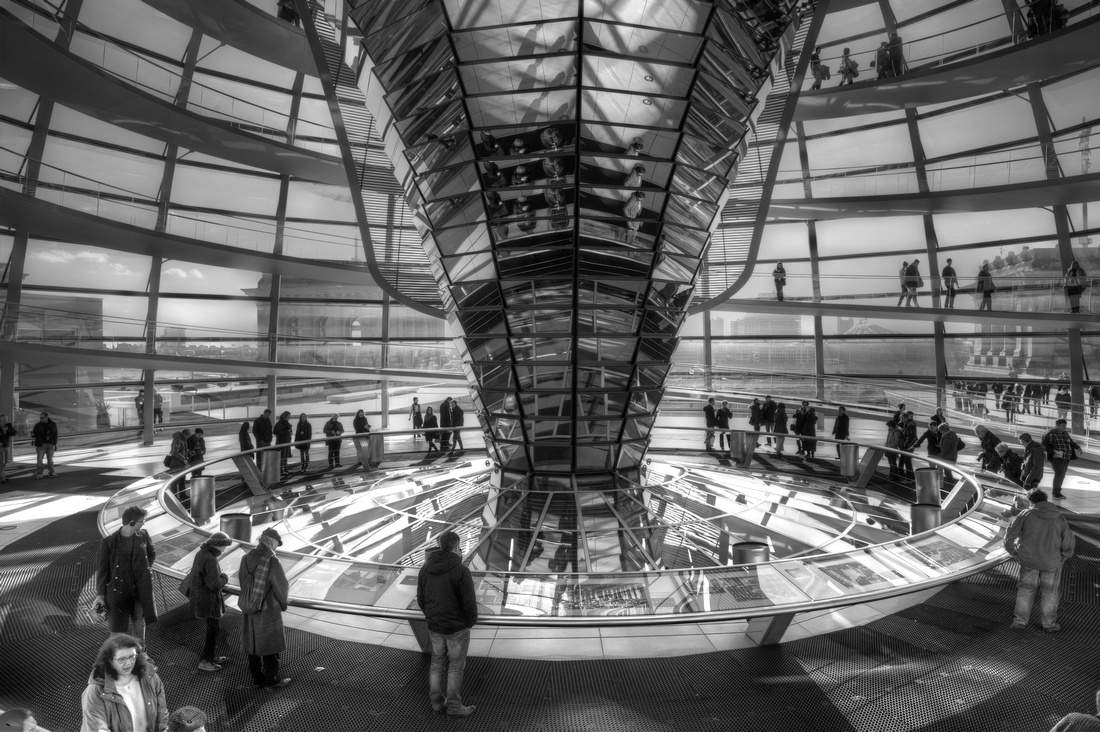 I'm pretty sure the mirrored thing in the center is a new cold-fusion reactor than will meet all of Europe's energy needs for the next century powered only by day-old sauerkraut. (Germany is innovative and progressive.)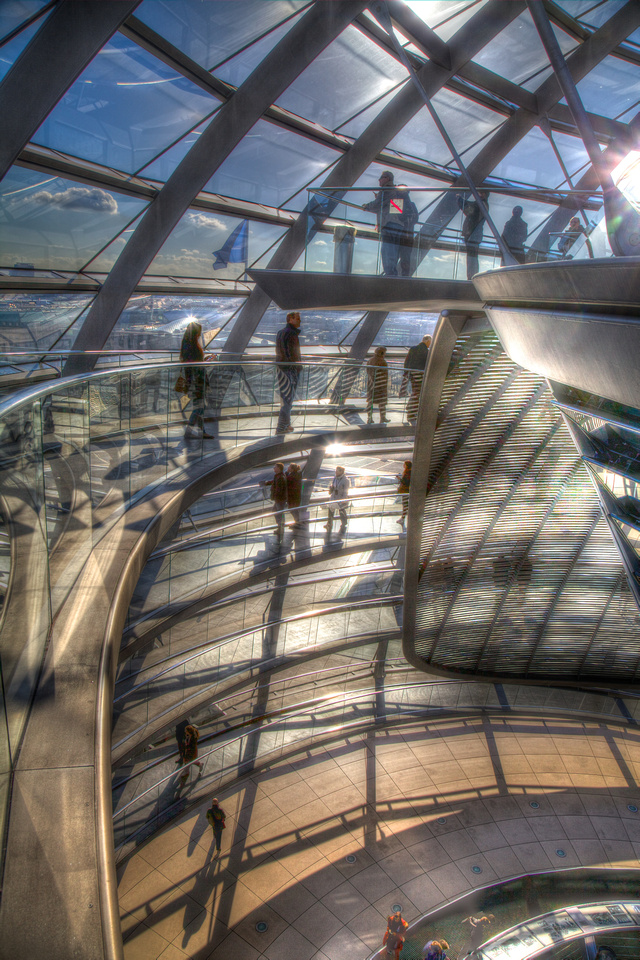 There is a curved walkway that leads to the top of the structure. After completing every rotation or so the audio guide would say something significant to me in angry-sounding German.
The views from the top of the dome were amazing – both architecture and people wise..
I haven't quite figured it out yet, but after arriving at the top of the dome, you walk down a separate ramp that somehow doesn't cross the ramp you came up on. I think some kind of strange Mobius-strip witchcraft was used to make this design possible.
After the Reichstag dome tour, we walked back to our hotel cutting through a huge public park known as Tiergarten Park that was once the hunting ground for the royal family.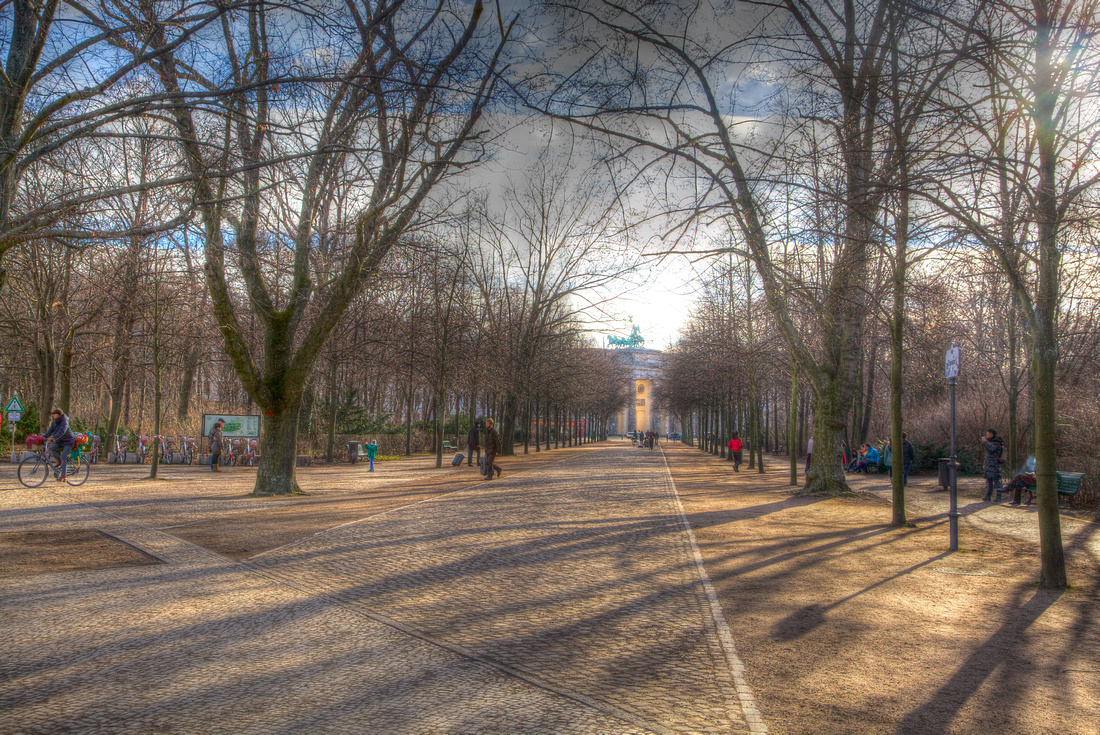 Inside the park I didn't see any ferocious animals, but I did see this red German squirrel. I think his name is "Dieter."
We grabbed some lunch after our dome tour, and found out about an English-speaking walking tour of Berlin. This tour is actually free (guides work for tips) and meets twice a day at the Starbucks near the Brandenburg gate. Go here to get all the tour details. I highly recommend it – our guide was great.
Our tour started at 1, so we showed up at the Brandenburg gate area a little early.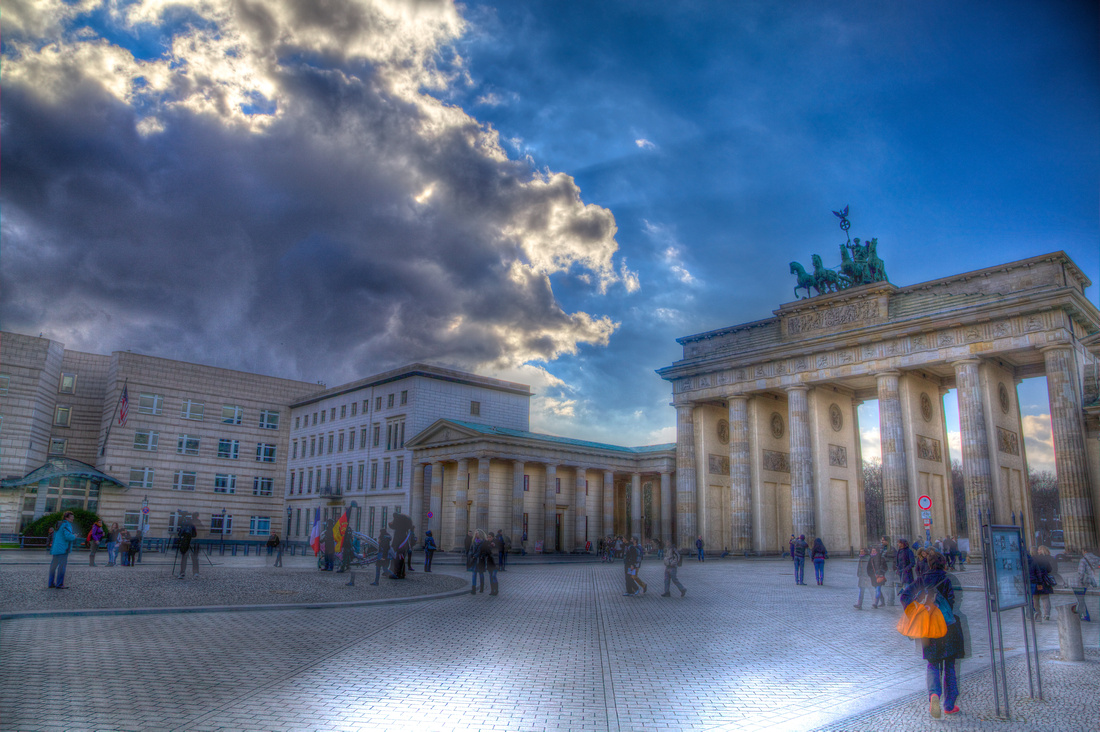 Okay I get it – Brandenburg Gate is probably THE tourist meeting place in Berlin. I saw people dressed in costumes looking to get paid for photos in the famous square. (Kind of like seeing Spiderman in front of the Chinese Theater in Hollywood…) However what I didn't understand was scary knockoff Mickey Mouse and Darth Vader…. Here is an image of Pedi-bear and his buddy Darth taking a mandatory union break.
I can't recommend the walking tour enough. One of the first stops on the tour was the Memorial to the Murdered Jews of Europe. Obviously Germany has some pretty dark marks on its history, and the Holocaust was the worst. Berlin doesn't sweep its bad history under the rug – they have memorials all over to mark these events – both to show they happened and to prevent them from ever happening again.
(Here is one of the other tour groups in the memorial grounds.)
Almost all of the WALL that separated West and East Germany is gone – ripped down by the government, the people, and souvenir hunters. What small sections still stand are protected by a fence…. (I think that is the definition of irony.) In sections where the wall once stood there is an inlayed double brick pattern – it is very subtle, but once you know what to look for you see it often.
Most of the WWII – Cold War remnants are gone. However, if you know were to look you can still see some standing. Here is a old guard tower located near Potsdamer Platz off a side road.
Our tour guide Steve (From Sydney Australia) was funny, clever and knowledgeable about everything Berlin. Part of the walk brought us to this mural depicting a "worker's paradise." It is in front of what once was the HQ of the Luftwaffe. (Now it's a public finance/tax building – don't know which is worse..)
Even the signs on the side of the buidling are a bit ominous.
The tour wasn't all about a dark past. Here they celebrate probably one of the worse cars ever built.
A tour of Berlin isn't complete without Checkpoint Charlie:
Heck, we even got to see the North Korean Embassy. (They had a portable basketball hoop set up on the side – I will say the rim was NOT set to regulation height…)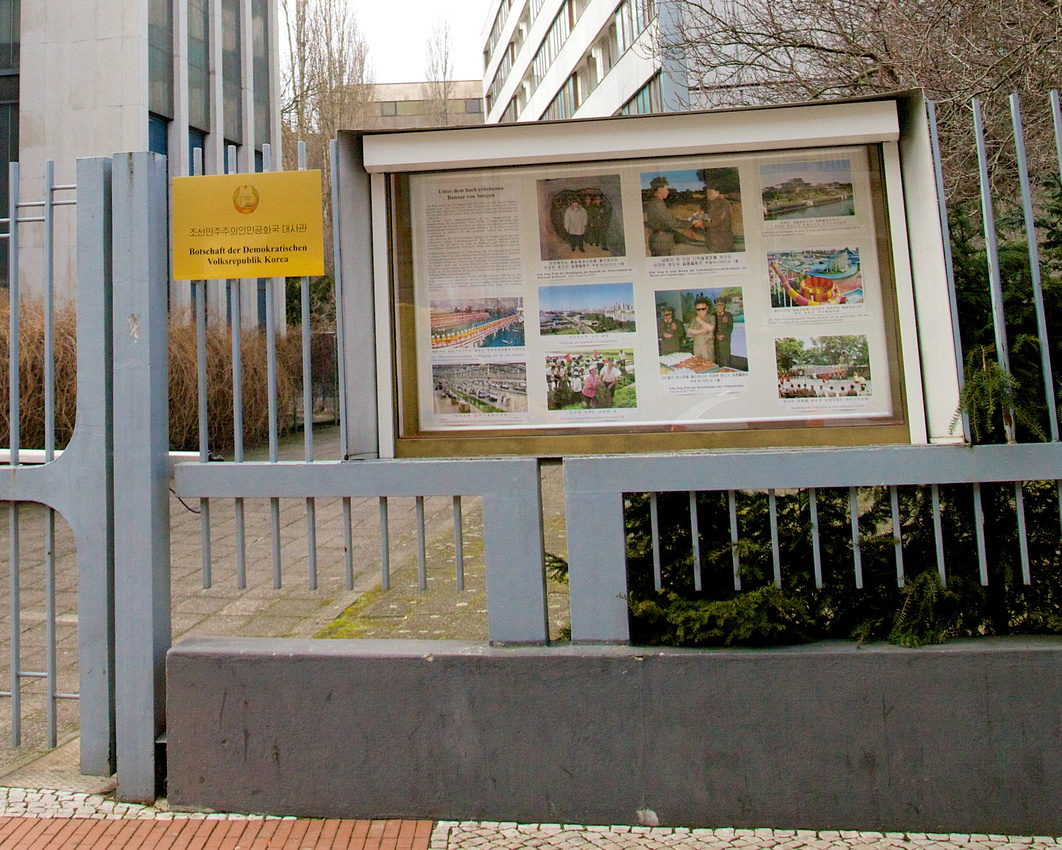 I really enjoyed my trip to Berlin. The walking tour was great, and I loved the dome atop the Reichstag. I also rented a bike from the hotel one day – another great way to see the city. In the past I have done the Fat Tire Bike tour of Berlin and found it quite enjoyable. (In the summer…) Just looking through my images makes me hungry for some bratwurst and sauerkraut.. I wonder if they have any here at Trader Joes….
Auf Wiedersehen!