(Want to buy a broom?)
Exotic Bangkok. Ever since I heard the song One Night in Bangkok, or saw James Bond in The Man With the Golden Gun as a kid, I wanted to visit this Asian capital. I finally got to visit Bangkok for the first time while I was still in the Navy back in 1996. I flew helicopters back then, and the ship I was assigned to pulled in to Pattaya Beach for a few days of shore leave. A fellow pilot and I signed up for tour to Bangkok. He limited me to singing the One Night in Bangkok song only 3 times a day, so I had to do it wisely and select only at the most appropriate moments. (My crew did the same thing to me with Toto's Africa on a trip to South Africa.)
Anyway, my first impression of Bangkok was a terrible rush hour. Horrendous traffic. Thousands of motorcycles, tuk-tuks, and cars competed for valuable real estate on crumbling roads. I remember being in a cab, and at one stoplight we counted over 30 motorcycles crammed in between the first 3 rows of cars. It's crazy.
I've been to Bangkok several times since my initial Navy visit, now I'm not as shocked by the living-city's traffic issues. There is something special about the bustling city and its friendly, eager to please, people.
The auto-rickshaw or tuk-tuk is a common taxi conveyance for local Thai and tourists alike. Resembling Mr. Toad's Wild Ride on crack, a tuk-tuk ride won't soon be forgotten. You'd think that your visibility would be pretty good from the back of this demon-inspired vehicle, but once you sit down you realize you were wrong. Dead wrong. Due to the geometry of the seat, roof, and driver, you can barely see out front, and the side views aren't exactly clear either. The mufflerless two-stroke motor screams like a trapped hyena and you can barely hear yourself think as you slam back and forth completely helpless. I've had out-of-control syllabus flights in Navy jets beat me up less than a tuk-tuk cross town trip. That all being said, the tuk-tuk experience is intrinsic to the Bangkok experience and can't be missed.
Ok, let's talk food. Let me preface this by stating that I like spicy food. A lot. At Taco Bell I only use fire sauce. None of that wimpy Hot stuff for me. I've never had anything too spicy for me – that is, until I visited Thailand. They have a completely different level of spice there; I'm talking several levels of magnitude higher than anything I've ever experienced before. We're talking HOLY CRAP I THINK I'M GOING TO DIE hot. Lava hot. Wow. I ordered some green chicken curry in Thailand once and after one spoonful I literally drank my beer, reached over and drank my friend's beer, stood up and ran away in search of more liquid like a scared little boy. Must have water...
(My wife modeled the above shot entitled, "quenched")
The "WAI" is the traditional greeting in Thailand. A slight bow, completed with hands pressed together is the local way to express gratitude, apologize, or just say hello. Here we can see good old Ronald McDonald giving it a shot.
Like the other major Asian cities, street vendors sell pretty much anything in Bangkok. Check out this authorized reseller of one of Pfizer's flagship products:
Seems legit, right? Right?
I would probably be remiss if I didn't at least touch on Bangkok's sex trade. Movies like Hangover 2 highlight the industry, and as a visitor to Bangkok I can say that it's definitely there is you want to partake. However, it's not as in-your-face as it has been portrayed. Working girls (or guys, who knows these days?) will approach you in bars, but they are friendly and a simple "no thank you" will let them know you aren't "buying." They will usually "wai" and move on. (The only purchases I've made in Bangkok are my hotel, food, beer, and a tailored jacket and shirts.) The Thai are extremely friendly and smile a lot. I have never seen an overt display of anger or disgust on my travels to Thailand.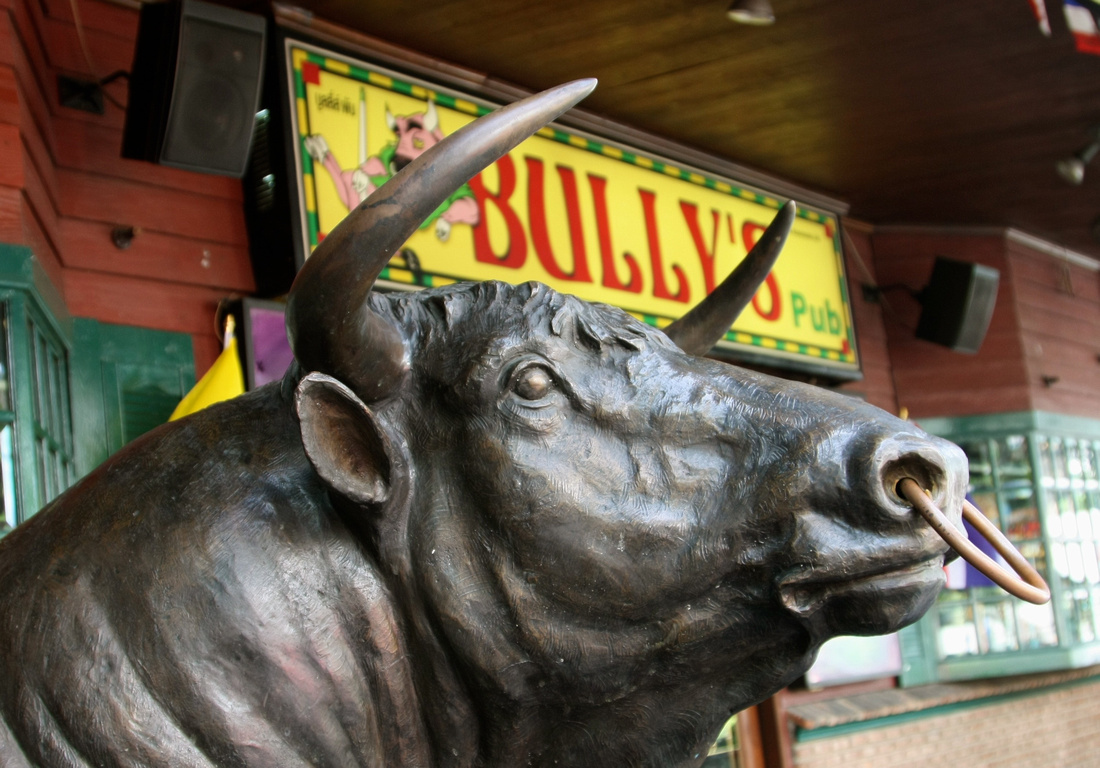 One of my favorite pubs in Thailand, near our hotel. (We stay at the JW Marriott.)
The Buddhist temples and pagodas are something that people enjoy seeing in Bangkok. I had an opportunity to visit one on my last trip.
Outside, fairly nondescript - inside is a different story...
I always enjoy my Bangkok trips. I mentioned I had a jacket and a few shirts made the last time I was there. The jacket fits perfectly and the shirts are among my favorite. Put "have shirts custom made" on your bucket list. It wasn't too expensive, I paid only $100 US dollars for 3 custom made shirts.
If you find yourself in southeast Asia give Bangkok a visit. You won't be disappointed.