(HDR taken from the Rialto Bridge with a Canon 5D mk II, processed in Aperture and Photmatix HDR.)
Ahhh, Venice. There are many places that claim they are the "Venice of the (whatever)", but there is only one true Venice. (Actually I guess there is one in California, but let's not fool ourselves….) On a recent family vacation to Europe we spent 2 amazing nights in the ancient sinking city.
The first I'd ever heard about Venice was when I saw Indiana Jones and the Last Crusade. When Indiana steps off the boat and sets foot on land he exclaims, "Ahhh, Venice…" That stuck with me and I probably said it 30 times each day we were there. (Much to the chagrin of my family…)
(Another HDR shot of a portion of the Grand Canal.)
Well, I'm with Professor Jones. When you step through the doors of the train station, walk down the steps towards the canal landing the first impression is pretty powerful. You can see the looks of amazement on the faces of the tourists exiting the train station. (The thousands of tourists….) Many exclaim out loud in their native languages. You hear French, Spanish, English, Pig Latin…
Yes, Venice is an ancient city with an amazing history. Yes the Venetians produce varied exports including glass sculpture and their famous blinds. (yes, I'm joking..) But let's get serious – Venice is a tourist destination. Period. In the summer the place is crawling with tourists, and most if not all of the city caters to these tourists. I've got nothing against tourists, heck we were tourists during our visit. The epicenter of tourist activity in Venice has to be St. Mark's Square. We checked out this famous square, but the wall-to-wall tourist factor there is a bit hard to take. The restaurants, gelato shops, and bars near this square are slammed and tend to have higher prices and lower quality service. We saw the square, then moved on to more intimate parts of Venice. Here is a shot of the throngs of people wandering around the square...
Once you get a few blocks away from St Mark's Square, the population thins out a bit and you can get a more intimate Venice experience.
Now being the learned historian and culture savant that I am, I set off with my family in search of the more historic and geographical highlights of Venice. Documented in the image below, I found the narrowest "street" in Venice..
Okay, let's talk about Venice's "streets." There are no cars in Venice, just boats and cobblestone walking streets. This town is a damn maze – complete with dead end streets, blind corners, and bridges that lead to nowhere. I swear I saw a minotaur hiding in one remote square. For lodging, we rented a small apartment through airbnb.com that was located in a quieter section of Venice. The owner of the apartment met us at a water taxi landing, walked us to our apartment and gave us a nice brief of the area in which we were staying. We dropped off our bags and set off to explore. Now, actually finding our digs at the end of the day, in the dark, after a little bit of wine turned out to be a Louis and Clark type expedition. (With no Sacajawea to help.) We had no gps, my phone was dead and all we had left was Heidi's phone and a picture she had taken of our "map."
After much "Are you sure…" and "Which street are we on?!?" and "I don't think that way is North" we eventually made it back to our apartment. We made it a point the next day to find landmarks and better ways to navigate back to where we were staying. The apartment worked out great by they way – the hotels (Like everything else) in Venice are very expensive – for much cheaper than we would have spent for a hotel we got multiple rooms and a full kitchen. The owner actually left food and wine for us to use. We really enjoyed the apartment – here is our daughter sketching the scene outside one of the windows.
The final product: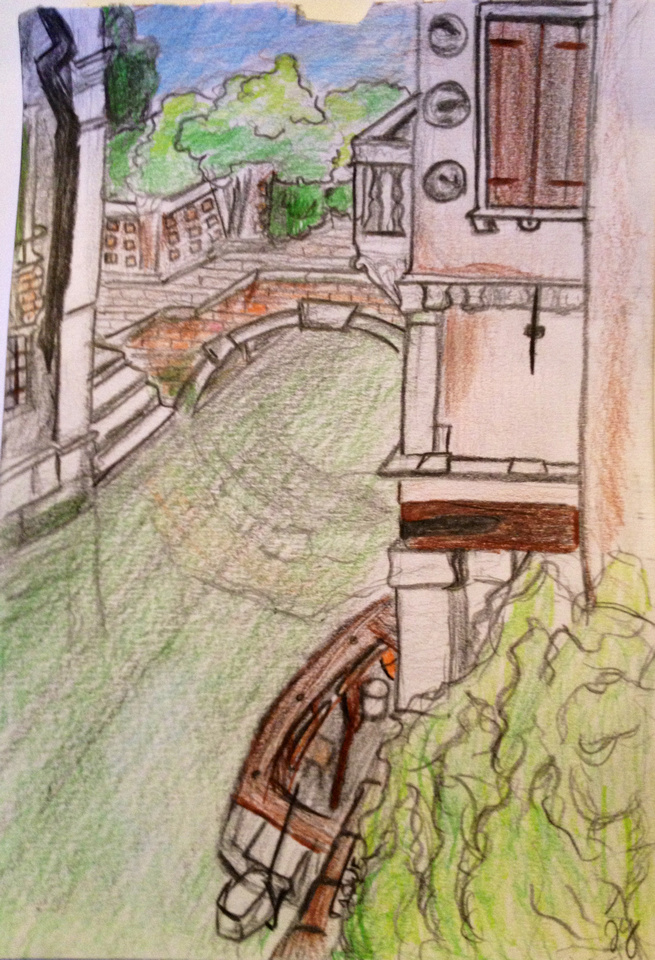 This city is a photographer's dream. Every turn yields a view dying to be captured. Images of the unique walls, ancient churches and singing gondoliers filled up my camera's memory card quickly.
Heck, even the mailboxes and doorknobs are cool!!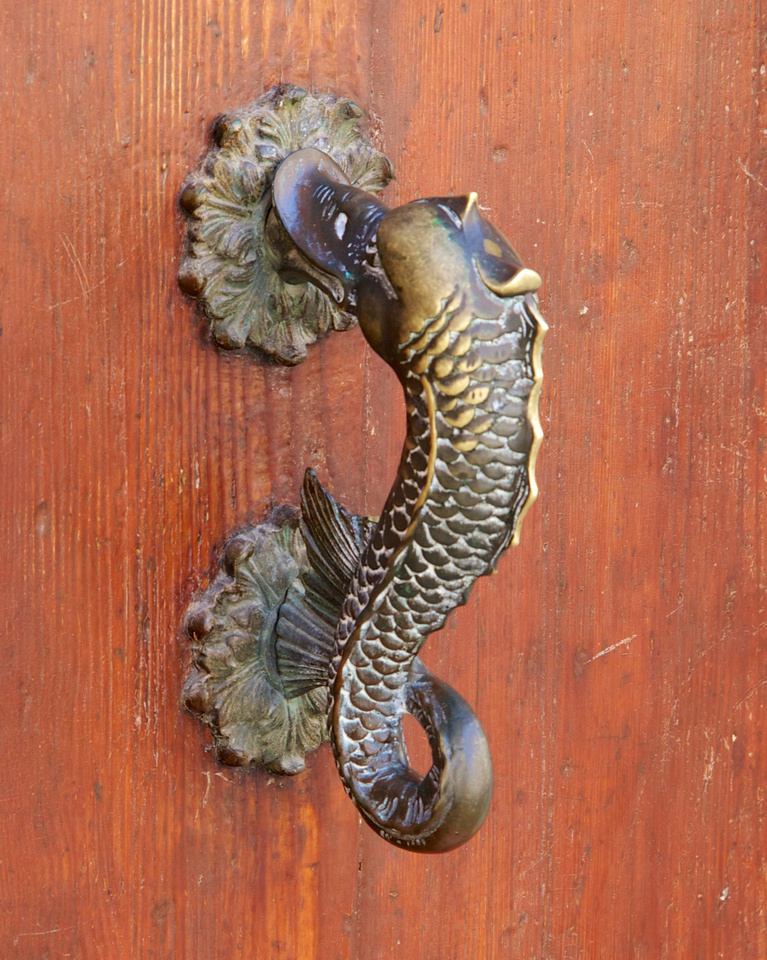 No photographer can visit Venice and not shoot the many bridges.
(The famous Bridge of Sighs connecting the prison to the palace.)
(Rialto Bridge)
Venice must have gazillions of photographers as its residents. Shooting portraits in this city is a dream. Interesting settings and backgrounds are all over the place.
(Heidi modeling next to a many century old palace facade.)
My family and I will never forget our visit to amazing Venice. The sights, smells, food, wine and ambience are etched into our memories. Venice was the first Italian city on our vacation, and certainly made us fans of the boot shaped country. Salute!!
(Thanks for the family photo Tom Clabough!)