(HDR shot of one of the most photographed places in Germany. Canon 5D mk II)
Tucked in the hills of southern Germany is a gem of a walled medieval town called Rothenburg ob der Tauber. Yeah it's a mouthful. It means (or so they tell me, my German is subpar..) "Red fortress above the Tauber (river)." The lengthy name is necessary, however, because it distinguishes it from other German towns with similar names. (A VERY key fact if you find yourself entering a city name into a rental car's GPS and blindly following its directions – not that I would do such a thing.)
Dating back to 950 AD, this charming town mostly exists today as a tourist destination. This summer my family and I were lucky enough to visit Rothenburg ODT (Easier to write) for a couple days on our European vacation.
(Another HDR shot of the main square.)
The mayor, or city council, or the Czar, or the King…whomever... has done a great job of preserving this charming burg. You will not find a Hilton, a Marriott, or God-forbid a Starbucks inside the walls of Rothenburg ODT. Everything appears probably as it did hundreds of years ago. The hotels we saw are mostly small intimate B&B types. The room we rented for the night was actually above a wine shop. (Now we're talking!) After we found a place to park our tiny rental car (not an easy task) we traveled solely on foot. Everywhere you look there are little stores, pubs, bakeries, and meat shops.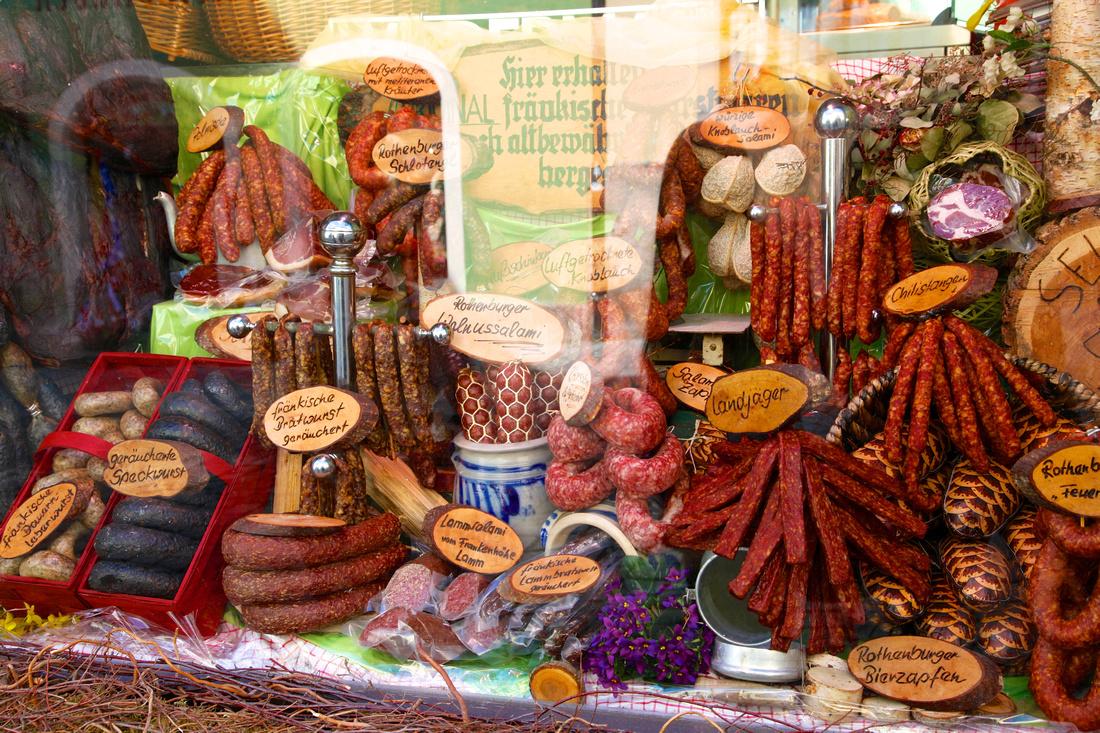 (Did I say "Meat Shop?" Yessir I did.....)
They even have their baked specialty – the crowd pleasing "Schneeballen" is found all over town. (My new favorite German word..)
Fairly compact, it's easy to walk across the small town in 20 minutes or so. You find yourself stopping often, however to take in the sights. This town is right out of central casting (or central location…whoever picks movie settings) for a small German town. The movie Chitty Chitty Bang Bang used Rothenburg ODT as a major setting.
(I'll bet you can't watch this video without starting to sing the evil song....)
While we were there, the weather was perfect and made walking very enjoyable. (With the exception of some strong German sneeze inducing pollen – can I get a GESHUNDHEIT!!)
I mentioned that the town has kept out the tourist eyesores you often find in major destinations. You won't find a celebrity wax museum in Rothenburg. However, they have their own version. The fairly grisly Crime and Punishment museum is a popular destination for visiting tourists. Filled with nightmare-inducing torture devices of every type, a walk through this museum makes one glad to live in modern times.
They even featured a coach seat from United Airlines!
Now Rothenburg ob der Tauber is famous for a lot of things: Schneeballen, iron maidens, and a walled enclosure to name a few. However, the famed draw and must do activity in Rothenburg has to be the Night Watchman tour.
(Jill with the famous Night Watchman of Rothenburg ob der Touber.)
(Rothenburg has a different feel at night.)
From mid-March, until Christmas the tour takes place every night at 8:00 PM. (This tour is In English. He does it again in German at 10:00 PM.) I think the cost was 7 Euros, pay at the end. The tour lasted about an hour and was full of dry wit, a history lesson, and a feeling of what it must have been like to be a Night Watchman back in the day. He does a fantastic job, and draws a crowd every night. European travel guide or Czar Rick Steves featured him on one of his travel shows. If you go to Rothenburg, DO THE NIGHT WATCHMAN TOUR.
We really enjoyed our short stay in Rothenburg ODT. Sure it's touristy, but heck we were tourists. Enough off the beaten path, it's not completely mobbed by backpackers jumping off the Eurorail, so there is still a feeling of intimacy. Charming outdoor restaurants, wine shops, and bakeries (Don't forget the Schneeballen!!) abound and people seemed genuinely friendly. Come check out this neat town, and don't forget to sing the Chitty Chitty Bang Bang song while you are munching on some Scnheeballens.