I recently was able to visit Chengdu, a major city in the southern and inland portion of China that has been beset with bad fortune. In 2008 an 8.0 earthquake hit killing 80,000 in the region and recent flooding has been the city's latest challenge. Probably what this region is most known for is the Wolong National Nature Reserve, the protected breeding area of the extremely rare Giant Panda.
Unfortunately, due to the earthquake and our limited time in Chengdu we were unable to see the Panda Preserve (Sounds like a tasty treat to spread on a bagel), so I concentrated shooting images around our hotel's area. Fortunately the Jinjiang River provided some picturesque bridges and bustling activity to shoot.
I remember it being extremely humid in Chengdu, and the second I left our air-conditioned hotel my entire camera rig fogged up. It probably took a good hour for all the condensation to clear up – and I learned a good lesson in the process. Photographers will often bring plastic bags to cover their equipment, and as the camera warms from cooler areas to warm moist environments the moisture will form on the plastic bag and not on the glass. I don't know why this works, I think it has something to do with a mixture of thermodynamics and rocket surgery.
I'm not really sure how clean the river water is....
One thing that never ceases to amaze me about Asia is the number and utility of the moped and scooter. Heck, I've even seen bicycles carrying refrigerators. I sat on one of the bridges crossing the river and watched the two-wheeled logistical machine pass by for an hour.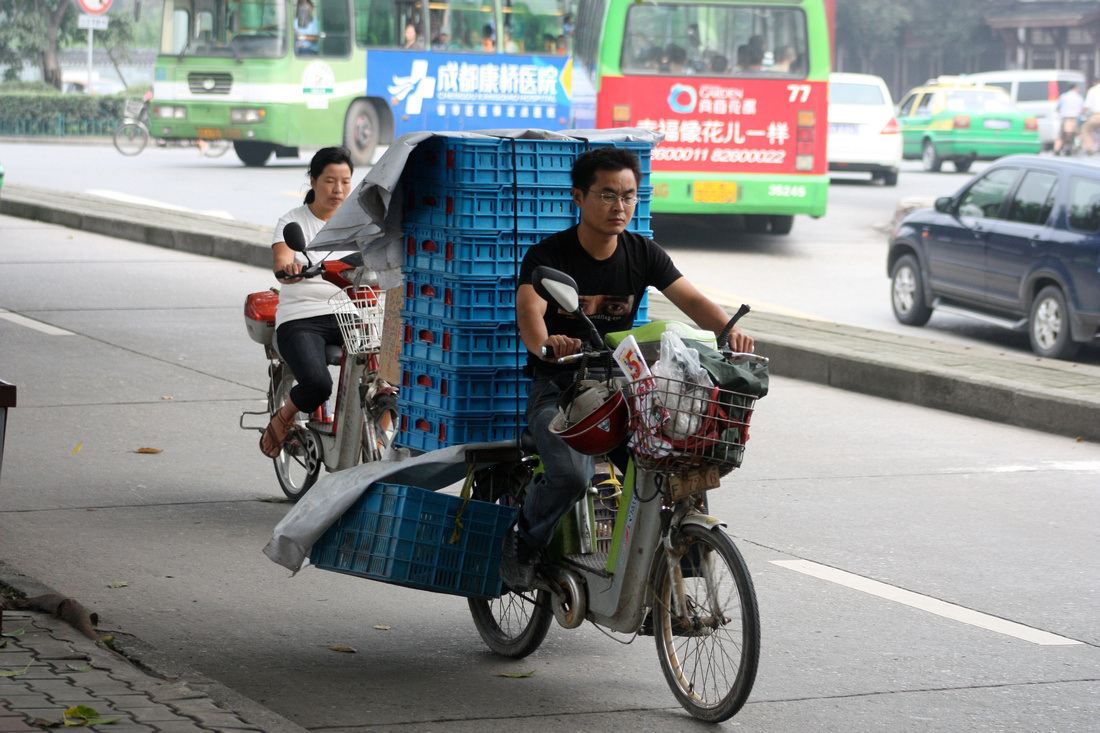 They can carry more on a moped than most Americans can stuff into an SUV. (In Vietnam I once saw a scooter carrying 13 pigs, but that's another blog post ...)
I'll end this post on an important safety tip. Don't text and moped!