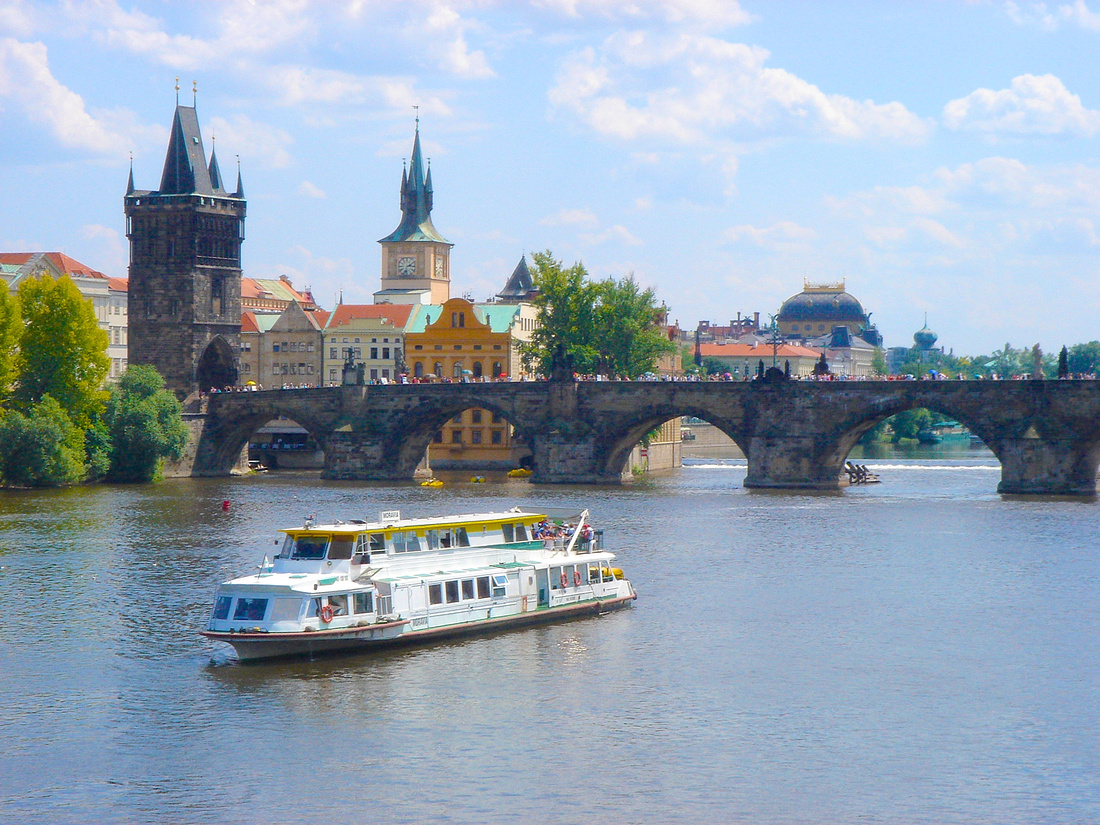 On the short list of my favorite places to visit is the famed capital of the Czech Republic, Prague. Through work (I'm a corporate pilot in my other job) I've been lucky enough to visit Prague twice, and I've truly fallen in love with the place. My first visit was in the dead of winter where we faced sub-zero temperatures, and even more harrowing was a trip in the summer where we faced the dreaded European tourist mobs.
With its 1000+ year history, Disneyesque castle, Eastern European flair, spooky bridge, Back To The Future capable (I'm sure) clock tower, and Cold War spy stories Prague has held my interest for years. When I saw the destination on an upcoming business trip itinerary I was ecstatic. This was definitely a "don't be singing or whistling while you are packing your suitcase in front of your lovely wife moment," at least if I wanted to maintain the marital bliss I have enjoyed since that wonderful wedding day. (She reads the blog.)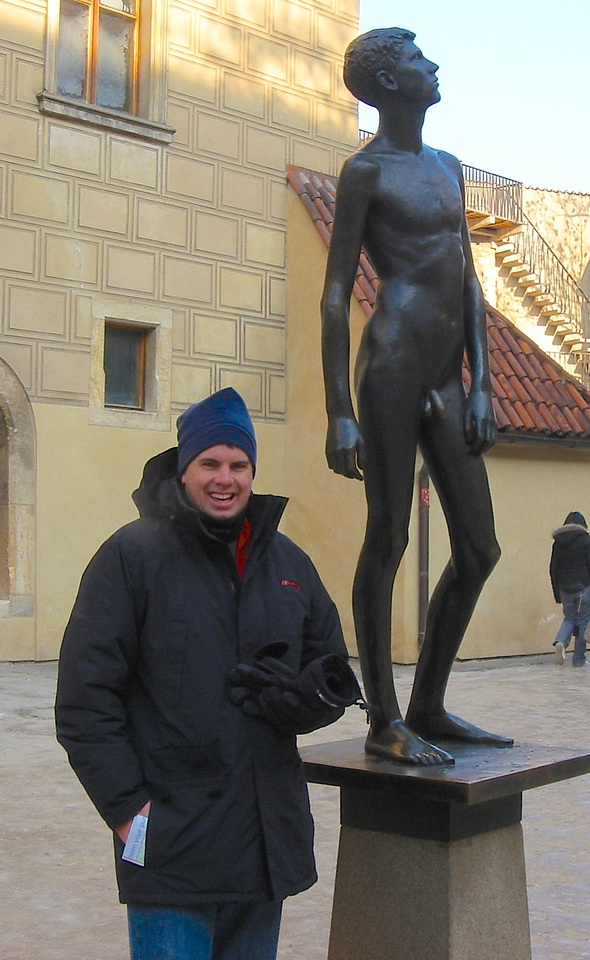 I mentioned my first arrival to Prague was in the winter. It was cold. Minus 20F cold. (For you metric folks, that coverts to either -29 C, or just simply "freaking freezing!") Here I am on a walk near the castle admiring some local sculpture.
The actual day we arrived into Prague was a long one. We were spending a few nights there, and after an 11 hour flight (where I was actually working) I was ready for some dinner, maybe a cold beverage and a warm bed. One of my co-workers and I set off in search of sustenance. We found a restaurant/bar on the edge of the city square and started ordering. What we intended on being a quick bite turned into a 2 hour meal and included a rather comprehensive sampling of the local beer and ale culture. When we finally asked for the bill, I prepared myself for a shock. Having dined in Western Europe, I've seen a simple lunch for two people easily pass a hundred bucks and we had been at this place for over 2 hours. The bill came in Korunas. (Czech currency) I put the amount in a foreign currency app on my phone and got ready to cringe. $27 US dollars!!! What?!?!? I was sure I messed up a decimal point somewhere. Nope. I love Eastern Europe.
While I enjoyed my first trip to Prague in the winter, my summer visit was more enjoyable - with the exception of the mass crowds EVERYWHERE in this fine city. The main town square in Prague is impressive with the famous astronomical clock tower and the mixture of baroque and gothic architecture found in surrounding churches. (Don't I sound pretentious!)
Here is the Gothic Church of Our Lady Before Tyn, built in the 14th century. This ominous structure towers over the old town square.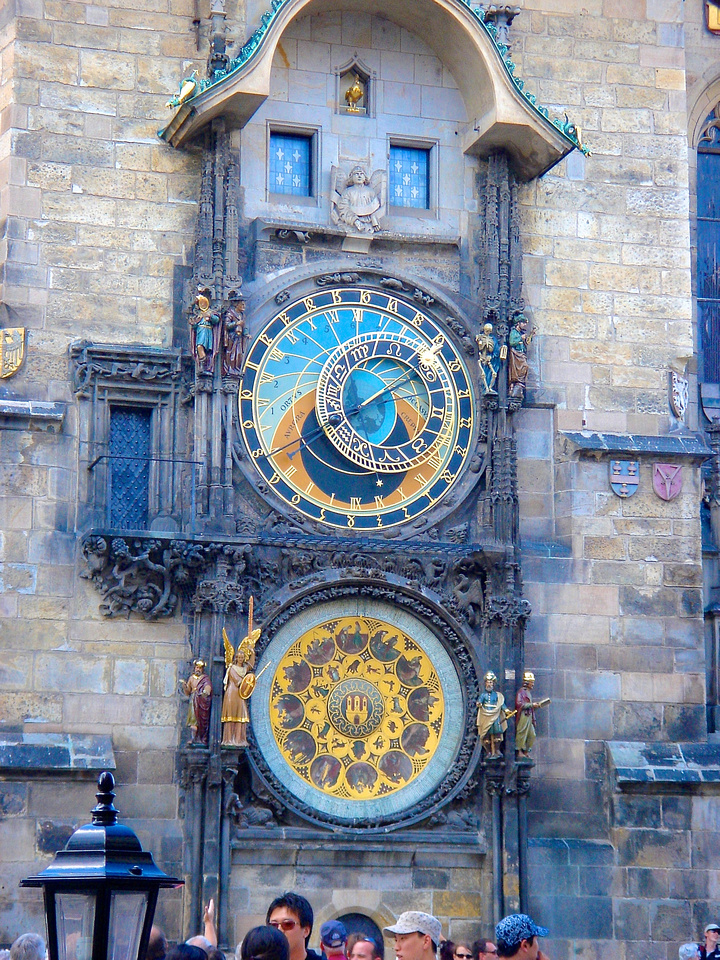 Ahhh.. The aforementioned clock. First installed in 1410, this operating work of art has enthralled Pragueonians (I think that's what a group of Prague residents are called. At least it's fun to say. Kind of like people from Idaho – Idahodians…) for hundreds of years. It's gone through some updates through the years; I heard they are going to covert it to a digital display in 2013. All kinds of stories surround the clock – one grisly tale I heard was that immediately after the master clockmaker finished installing the masterpiece, the leader who commissioned the work ordered that he be blinded so he could never duplicate the clock anywhere else. While I doubt the veracity of that story, it certainly adds to the lore surrounding the clock. You can see a computer animation of the clock by clicking here.
This is my favorite view of the clock. Several restaurants set up outdoors in the square during the summer. Here you can sample the Czech Republic's fine local ales, while making sure the clock doesn't miss a tick.
No visit to Prague would be complete without walking from old town square across the Charles Bridge and up the hill to Prague Castle. The Charles Bridge, with construction starting in the 1300s, is lined by 30 statutes who look in at those daring to cross the structure. During the day various artists and pickpockets (I'm sure) set up camp on the bridge and peddle their wares to those crossing the Vitava River. My favorite time to cross the bridge is just after dusk. With the eerie dimming twilight I feel like a cold war CIA officer en route to a secret meeting with a potential asset whom I hope to recruit to work for the good guys. (I can be kind of a dork.) I didn't have my fancy camera or updated skills when I visited Prague; I'd love to visit again armed with my trusty Canon 5D mk II and a tripod and capture some evening images of the bridge.
Once you cross the bridge and head up the steep hill, you'll find Prague Castle and its huge cathedral. This gate guards part of the castle. This has to be the coolest gate I have ever seen. Having a castle is impressive enough, but to have a custom-made gate depicting graphic sword and club slaying scenes – well, that raises your coolness to yet another level.
If the complicated clock, the scary bridge, or the grisly gate are a bit much for you, you can always check out the Barbie Exibition located near the castle.
See, Prague has something for everyone. It goes well beyond the necessities for a popular European destination. (Mentioned before in other blog posts: river, old part, new part, big church) I enjoy some of these Eastern European gems, and the non-reliance of the Euro can make them affordable as well. I found the Czech people to be friendly and welcoming. (Some are even pretty good tennis players) Go "Czech" out Prague – you'll love it.