A few years ago I had the opportunity to visit St. Petersburg, Russia, a couple times on work trips. (I'm also a corporate pilot for a large company.) I had visited Moscow (read my blog post here) and was excited to see another major Russian city. One characteristic of a Russian airport is when you land you KNOW you are at a Russian airport. The Cyrillic letters are everywhere, the fuel trucks look different, and the aircraft are different than you find elsewhere.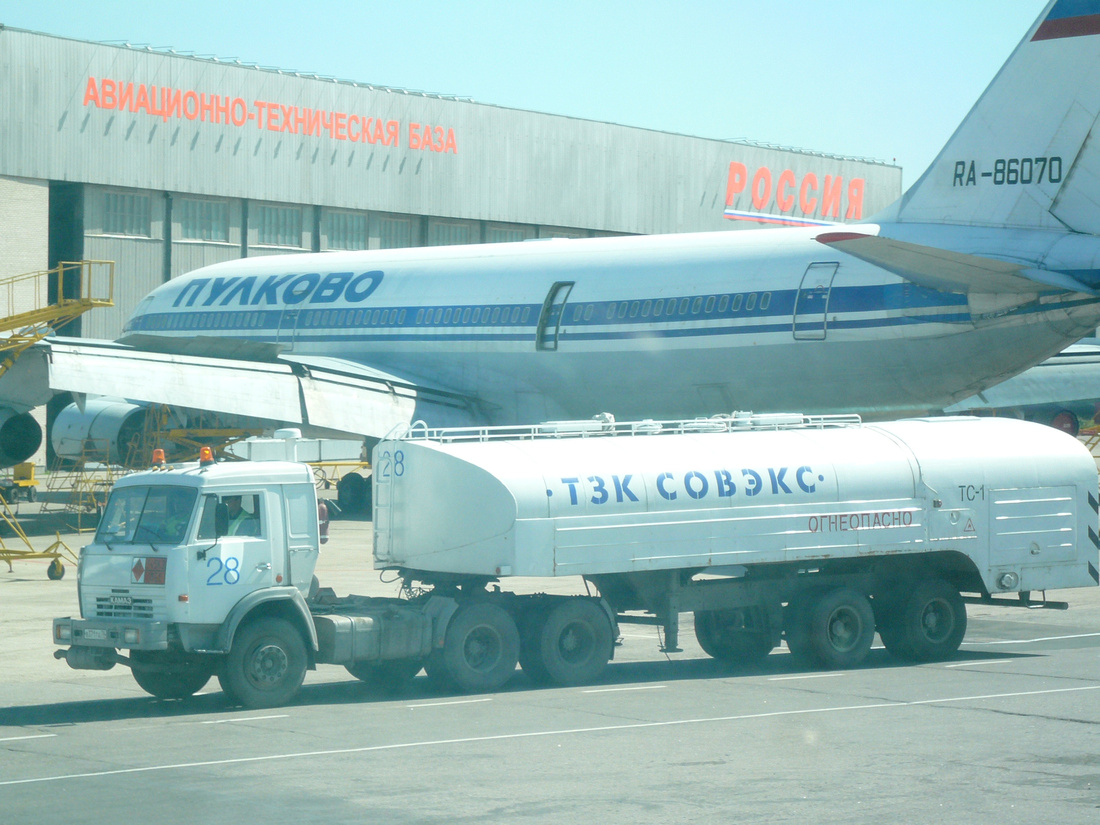 That truck just LOOKS Russian doesn't it? Check out one of their commercial aircraft:
While it may look similar to a 727, the downward sloping wings and the modified tail structure immediately set it apart from Boeing products. These uniquely Russian views immediately set the tone and remind you that you aren't in Kansas anymore. Or California. Or even Texas… While Moscow felt more governmental and capital city-esque (Is that even a word?) St. Petersburg feels a bit more like a crown jewel in Russia's headpiece. Set on the picturesque Baltic Sea, the city has roots going back to the 1700s. While Moscow reminded me of Cold War Russia, St. Petersburg feels older, with Tsar influence in its palaces.
Here, a short walk from our hotel (We stayed at the St. Petersburg Renaissance) we found Palace Square and the Winter Palace. This palace was the official residence of the Russian monarchs from the 1700s to the early 1900s. Today the palace is one of the buildings which house collections from the renowned Hermitage museum. Here is the main Hermitage building.
While I'd like to say we toured the Hermitage for days, taking in the unparalleled collection of priceless art and such – I can't. We did enter the museum, although it was just to use their restroom facilities (which are quite nice by the way!) so we could continue our exploration of the city. Many of my trips, this one included, are very brief stays so we try to take in as much as we can in 1 or 2 days. The limited time, plus a nasty case of jet lag often limit our sightseeing to brief windows. We try to make the most of it however, and on a nice summer day such as this we covered several miles on foot.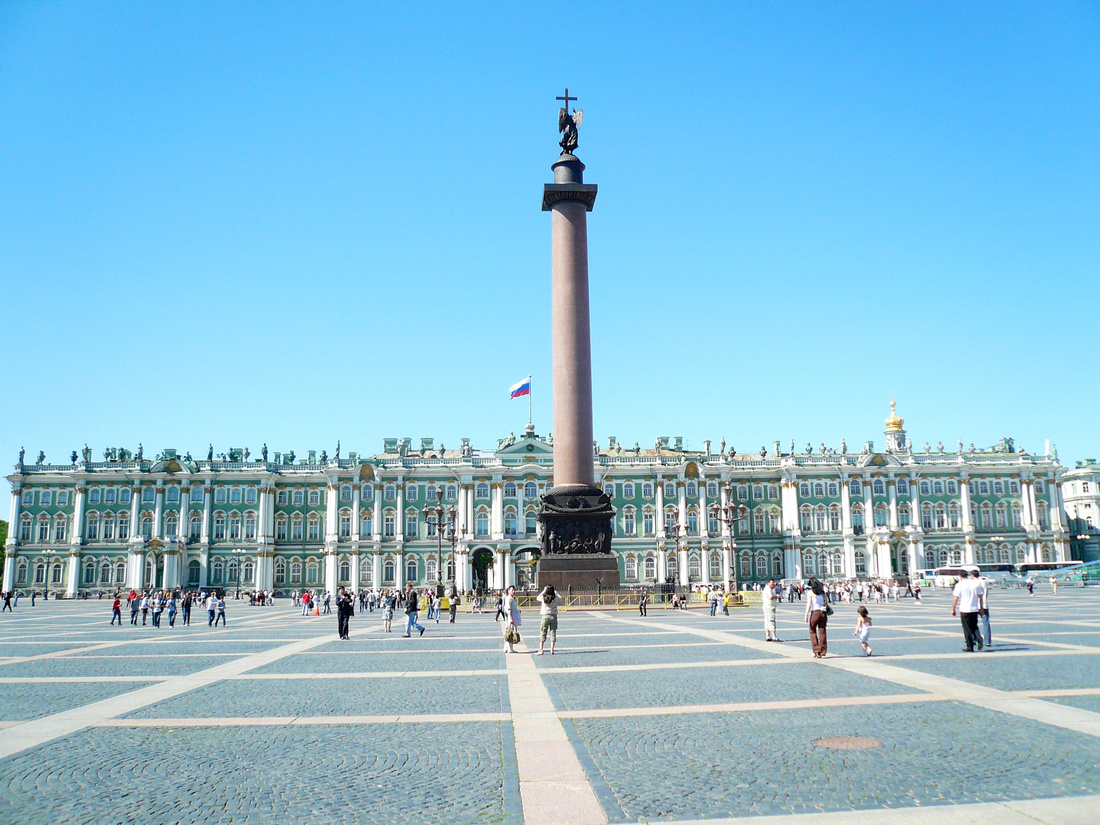 This large square, shown in the last two photos is HUGE. It's hard to see the scale in these poorly-composed (old pictures from before I really got into photography) shots but it would take several minutes to cross the space on foot. I imagine in the past, thousands of soldiers standing in formation for a massive pass and review ceremony. I don't know if this ever happened, but the space has that feel.
The Neva River runs through much of the city, and connects to both the Baltic Sea and a number of navigable canals. In fact, St. Petersburg has been called the "Venice" of the North. I don't put much stock in that label, however, it seems that any place that has a canal or two likes to call itself the "Venice" of something. i.e. Padre Island, the "Venice" of South Texas...
I like to bring trinkets back from my travels to my family in order to continuously buy their love, and if I can find something a specific area is known for than I get even more Brownie points. The Baltics are known for amber products, but I had already brought some amber back from Riga, Latvia. (Look for that blog post in the next few weeks.) For petrified tree sap, amber can be pricey. Heck EVERYTHING in Russia seemed to be pricey; our hotel was the equivalent of over 500 US dollars a day. My daughter had expressed an interest in the game of chess recently so I decided to bring home a chess set for her. (The game is HUGE in Russia.)
Others in my group also needed to find gifts to bring home, so we asked the hotel where we could find local wares. They gave us directions to a shop a few blocks from the hotel. This excursion turned out to be a weird experience. We arrived at the address, and saw a door with no sign. "What the heck?" we thought, then the door opened and a man asked us to come inside. We looked in, and saw a dark – foreboding room. All of a sudden, the lights inside started coming on and people began moving around. We decided to walk inside (They wouldn't really kill us right?) and check it out. They had all the Russian nick-knacks anybody could ask for. They had chess sets, they had the doll within a doll within a doll within a doll within a doll things. They had big furry hats – if it was Russian and for sale they had it. Nothing was cheap – I think I spent 75 US for a fold up chess set. After we selected our goods, paid and left we saw them turn off all the lights and sit down in the dark to wait for the next group of suckers to show up. We guessed they kept the lights off when no customers were there in order to save on electricity prices. Weird.
I think the most interesting building in St. Petersburg is this amazing Church. Not only does it look AWESOME it also has a cool name: "The Church of Our Savior on the Spilled Blood" I have to come up with a name like the for my house. Located on a canal, this church always has a crowd of tourists taking photos out front.
That is about if for St. Petersburg. If you are going to visit Russia, I believe it's a must-see. We had been briefed about crime issues before we arrived, but we never felt unsafe while we were there. (Due to jet lag, I ended up retiring shortly after dark however – as in any large city you have to be careful where you go when the vampires are out…) I'd love the opportunity to go back with my good camera. (And some updated skills…) Nasdarovje! (Means "cheers.")