I am fortunate to travel the world for work, (I pilot business aircraft.) and with all the foreign destinations it's sometimes easy to forget about the great locations we have in the USA. In 2008 my wife, daughter, and I took a family vacation to our nation's capital. I'd been there a few times, but never for a whole week and never with such intensity. (My typical business layover consists of a little sightseeing, finding a good restaurant, and maybe locating an interesting pub.) Well – that was not going to be the case on this trip to DC. We were going to see EVERYTHING.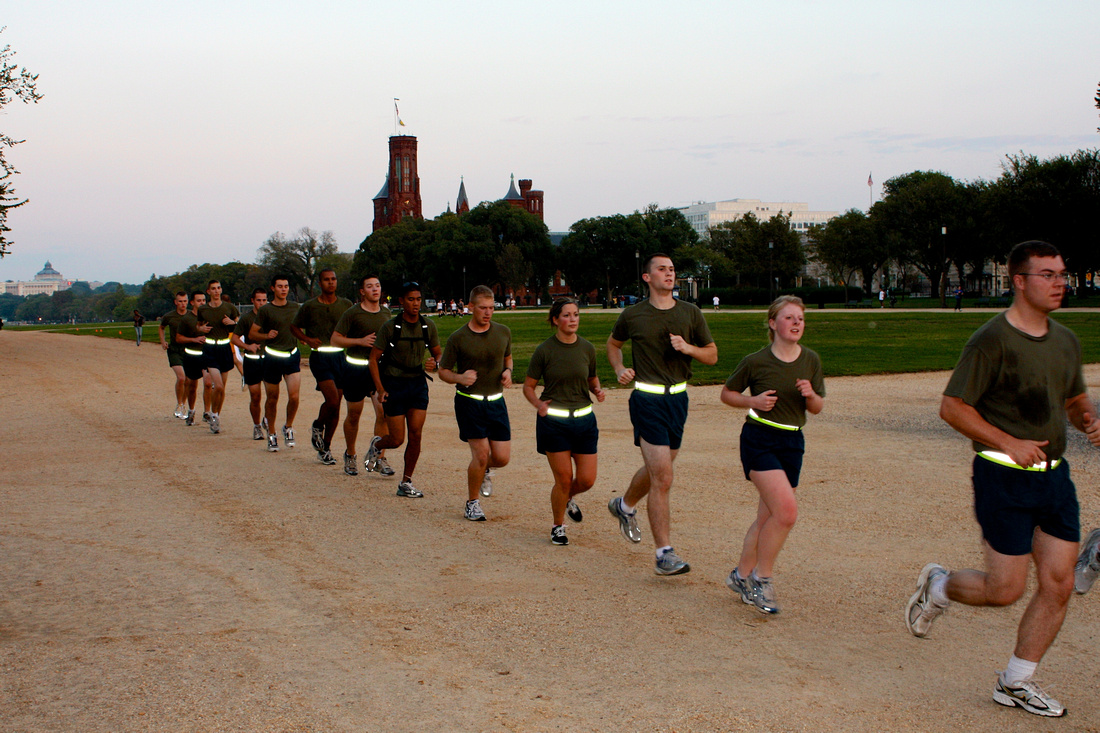 We stayed at a Courtyard Marriott (my version of "camping" – it's not a full service Marriott) near the center of town. We chose the area carefully – DC has some violent crime "challenges" and I try to avoid gun shot wounds when I can. We were located within a couple blocks of a metro station so we didn't need/want a car for our sightseeing.
When I think of DC I think about the big-ticket items: the Mall, the Capital, the White House, the Spy Museum. (Mostly the Spy Museum – and it was AWESOME!!) We started our sightseeing on the Mall. Walking along the well-used paths we took in the great views of the Capital building, the Washington Monument, and the iconic Smithsonian Castle. (Which contains a secret basement housing an elite scientific para-military organization – At least if you are a fan of James Rollins' Sigma novels..)
We (and by "we" I mean my lovely wife) prepared well for our trip. We wrote our congressmen, senators (even the ones I REALLY don't like), and talked to our mailman about how to get into the truly alluring sights. We were able to secure tours of the Capital, the White House, and Bureau of Engraving. These all require some sort of double-secret background checks; and I'm happy to say the Young family made it through the checks successfully. This was in 2008 and we were inside the Capital building (well, waiting in line actually) when congress voted down the initial bank-bail out bill.
(Inside the Capital rotunda)
After we toured the Capital we headed across the street and met our representative. I didn't really think we were going to get to see anybody, but our congressman brought us into his office, took a photo with us and give our daughter Jill a copy of the constitution. Very cool! The White House tour was next.
We approached the White House for our tour. Obviously security is everywhere in DC, and I noticed the guy posted on the roof of the President's residence.
That's a nasty looking gun next to him. At least he has a bottle of water available to keep him well-hydrated. The White House tour was great; I always wondered what it would be like to be inside the famous landmark.
We spent a LOT of time touring the famous Smithsonian museums in DC. (FYI – they are FREE to visit!!) The Zoo is part of the Smithsonian system so we spent part of a day at the zoo. Zoos are weird for me – I always end up enjoying zoo visits more than I think I will. I was actually dreading heading to the zoo, but had a great morning there.
(The above shot is of the dreaded "Zombie-Ninja Mothra" which sports a 6 foot wingspan and fangs that can penetrate case-hardened steel.) Another highlight of our trip was the monument tour. We spent a lot of the week walking everywhere, and for the monument tour we were able to find one that utilized bicycles. (There was NO WAY IN HELL I was going to do the Segway tour..) Bicycles are a great way to see the monuments; please do a bike tour if you find yourself in DC. Some info here..
(Jill on the Einstein memorial. The tour guide said it was one of the few memorials that it was okay to climb on...)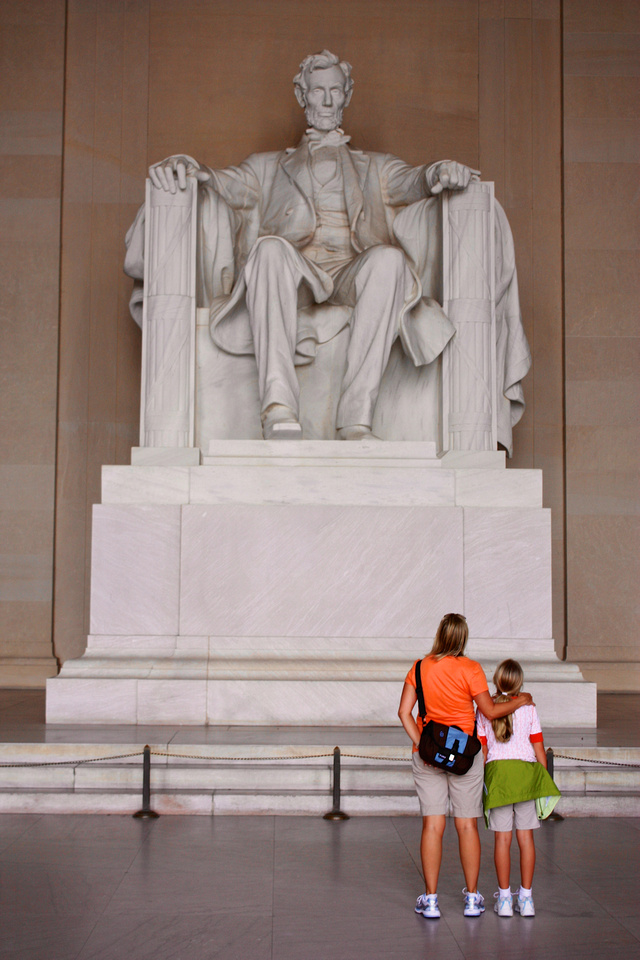 Heidi and Jill checking out Lincoln. (He was smaller in the movie..)
Here I am with my daughter in front of the Jefferson Memorial.
I mentioned that we used the metro to get around the DC area. I was excited to expose my daughter to public transportation. (In a system that works, not in a "you may get stabbed if you take this bus" kind of way.) We would get to the metro stop, tell our daughter which stop we needed to get to and have our daughter figure out how to make it work. She got pretty good at metro-navigation.
(This is a terrible photo, and my wife will probably kill me for including it, but the sight of them smiling on the metro makes me happy.)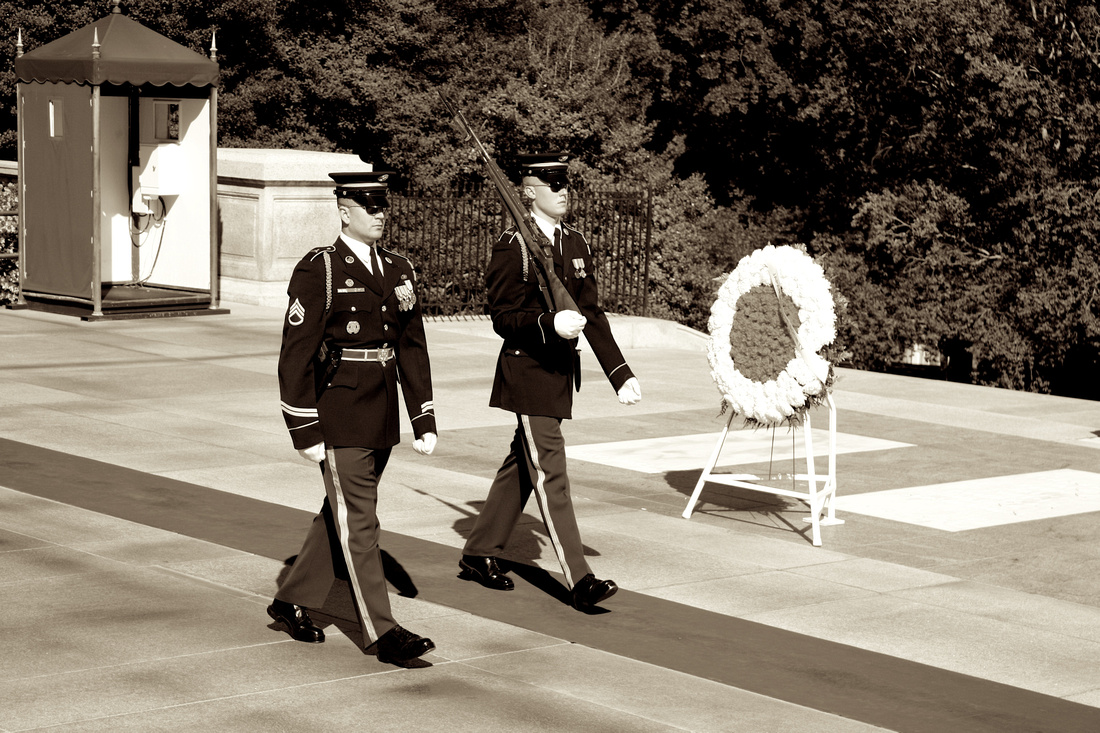 As a veteran, a trip to DC would not be complete without a visit to hallowed Arlington National Cemetery. The Tomb of the Unknown Soldier and the rolling hills of endless headstones of those who served were unforgettable sights.
After our Arlington visit we jumped back on the metro and headed into Georgetown. If I was a young Washington insider (with significant means – it isn't cheap) I think I'd like to live in Georgetown.
Obviously, a visit to Georgetown would not be complete if it didn't include a walk up the famous Exorcist stairs. Do you remember the scene?
I'll always remember our Washington DC trip fondly. (My favorite part was the Spy Museum, but I'm a spy-nerd.) We saw the Declaration of Independence, met our representative, we walked through the White House, hit the zoo, looked for ghosts in Georgetown, dined at the Capital Grill, saw a zillion museums, and experienced a TON of other sights/activities. With the exception of sharing a shuttle van from the airport with a possible Al Qaeda cell we never felt in any danger in DC. I love traveling abroad, but sometimes I forget the spectacular venues we have here in the USA. Happy traveling!