Located in the southern South China Sea, Kuala Lumpur – Malaysia's capital city – bakes in saunaesque temperatures and 1 thousand percent humidity. The oppressive atmosphere hits you like a nine-iron as you exit your nicely air conditioned hotel. I was lucky enough to visit this Malaysian gem in 2007 on a work trip. (As I've stated in previous blog posts, when I'm not taking pictures I'm a corporate pilot with a large international company.)
(The images on this entry were taken in 2007 with a simple point and shoot camera before I really studied photography.)
The crown jewel in KLs skyline has to be the Petronas Towers. 1,483 feet tall, The Towers structure was the tallest building in the world until Taipei 101 was built in 2004.
Each day, up to 1000 people can buy tickets to ride the elevators up to the Skybridge located 558 feet up the structure. We were in KL for only 2 nights and I didn't know if I'd ever get there again so I decided to make the effort to get into the Towers. If I remember right the line starts at 8:00 am for the tower tour. The tickets are 80 Malaysian ringgits (or bongo bucks – standard term for foreign currency) which is about 25 US dollars. The process is kind of a pain:
1. Get up early. (No problem because I was already jet lagged and woke up 3 am-ish.)
2. Try to get back to sleep until at least 6:30 or so when breakfast opens. (Didn't work.)
3. Get up, shower and get some breakfast that doesn't involve fish. (Don't get me wrong, I like fish but haven't been able to get used to it as a breakfast solution.)
4. Coffee.
5. More coffee.
6. Walk to the towers. (They have to be close, I can see them from the hotel. )
7. They aren't close, hail a cab.
8. Stand in long line to buy tickets.
9. Buy tickets, look on ticket for time when we return to ride up to the Skybridge. (1 PM)
10. Find more coffee and head back to hotel.
Okay – it's just before 1 pm, it HAS to be 115 degrees and we're ready to stand in line again with our tickets. We look way up and see the Skybridge.
The design of the Skybridge is impressive. It can slide inside of both towers when they are swaying (slightly I hope) in the wind. It also acts as an escape route should one of the towers catch fire.
Anyway, we finally make it to the elevator and ride up to the bridge.
The bridge is 190 feet along and we are allowed a few minutes to look around before it's time for us to take the elevator down and let the next batch of $25 a head tourists take their turn. The views were amazing.
Here is proof I was there.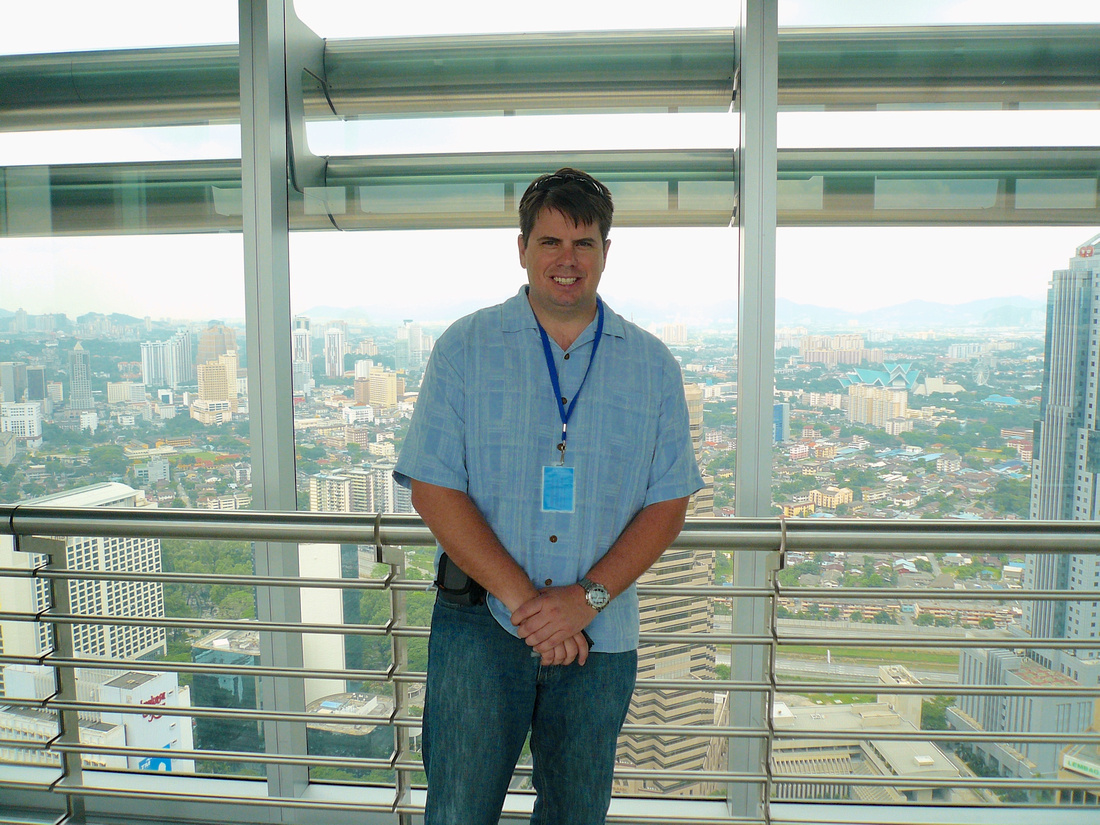 Before I knew it our time was up and we had to take the elevator back down to Earth. We made it back to the hotel, and found some lunch.
(Seafood is fine for lunch.)
The rest of the afternoon was spent decompressing and fighting jet lag by the pool.
That was my KL trip. We stayed at the JW Marriott and other than the Petronas Towers we didn't venture out much in the city. The hotel is in a great area filled with restaurants, shopping and bars (I've heard anyway ;) Sorakan!