On my previous blog post I covered a trip to Florence. While we were there we hopped a train to Pisa. This was my first Euro-rail experience and I wanted to see the iconic leaning tower. (One of those scratching items off a checklist things.) Once again this was before my dSLR days, I was a a photo-newbie but I still enjoyed the practice. I'd heard about Europe's wonderful rail system forever, and was willing to give it a shot. I also wanted to see if resembled the iconic scene from the renowned film Eurotrip.
The train ride was a "Pisa" of cake (about an hour) and with the exception of a "urinistic" odor I had no complaints. The walk from the train station to the Piazza dei Miracoli wasn't too bad and our route (from the Rick Steves book) took us through some interesting neighborhoods.
Once you see the crowds you know you're close to the tower.
The items of interest in the Piazza are the famous tower, the Cathedral, and the baptistery. I want to say we looked inside the cathedral, but didn't make it into the leaning tower due to huge crowds and we didn't feel like paying the entrance fee. Just seeing the tower was enough and taking the ubiquitous "me holding up the tower" picture was enough for me to be able to check Pisa off my list.
This shot shows the lean well. The tower actually started leaning almost immediately after building started and the builders tried to correct the lean through further design and building techniques. (Kind of like when you are building a block tower and it starts to lean a bit so you put more blocks on the the other side... Never works.)
Ok - no hating on my first "holding up the tower" photo. Everybody was doing it, and if I learned anything from school - anything is okay as long as everybody else is doing it. ;) I actually think this opposite angle makes for interesting views.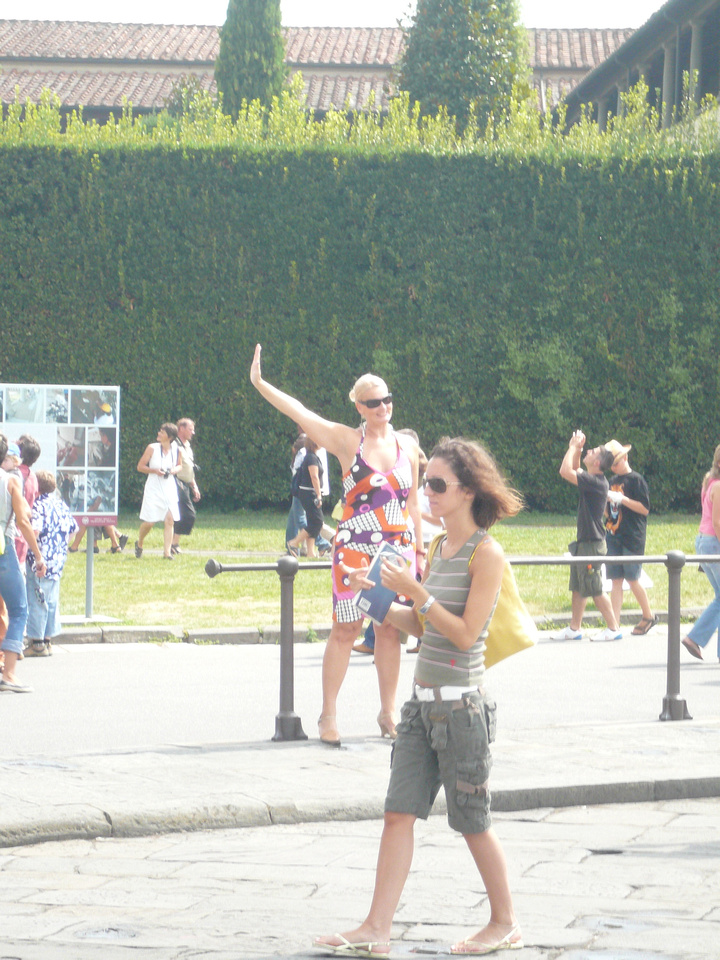 After we got our fill of the Piazza and it's gems, we were able to score a corner table at a bistro will full view of the area. We ate some pizza (near the Piazza), had a few beverages and watched everybody walk by. What a great afternoon.