I am very fortunate to travel for a living, and I am often asked, "What is your favorite place you have been?" That is a loaded question. Big time. It's like asking "What is your favorite food?" You don't want to sound shallow and say something like "Beer" or sound stuffy and say "Organic tofu salad." (Having trouble coming up with stuffy examples – I'm a simple man.) ANYWAY, I've been lucky enough to visit over 50 countries and I've always struggled with that question. That is, until I visited Dubrovnik, Croatia.
My last visit to Dubrovnik was over 5 years ago and before I owned a dSLR camera. All of these images were taken with a point and shoot – please excuse the quality. I'll do my best to convey the beauty of Dubrovnik through my text if the images don't do justice.
Quick Geography lesson – find Italy on a map. (You know, the one shaped like a boot in the Mediterranean. ) Go directly East across the Adriatic Sea. The country on the other side is mostly Croatia. Here is a map:
The Dalmatian Coast is the Western side of Croatia, and is rife with islands and amazing sea ports. One of the UNESCO World Heritage sites, Dubrovnik is a jewel in the crown of the Dalmatian Coast. (I don't know why they insist on the "Dalmatian Coast" name, I didn't see one of those hyper black and white spotted dogs…)
When one first lays eyes on Dubrovnik, he or she is usually blown away. The last time I was there a tour bus pulled up and a young American in his early 20s stepped out with his "I'm traveling all over Europe by myself" backpack. He walked up to a nice viewpoint of the city and said to himself out loud, "You have GOT to be shitting me!" While it may have been a little crass, it was certainly apropos. If people aren't saying it out loud when they first see Dubrovnik, they are certainly thinking it.
(Once again, please excuse the poor quality of these photos - I was but a young photography pup and I had a first generation point-and-shoot.)
From outside the medieval walled city the view is impressive. It continues to be so once you get inside. We stayed at a Hilton just outside the walls and a short walk brought us inside old town.
One of the first things we did, both for the fantastic views but also to get a lay of the land was the Wall Tour. For a few Kuna (Croatian currency) you get a ticket that gives you access to the wall. Great sights along the wall.
(We visited this nice "bean bag chair" bar later that evening.)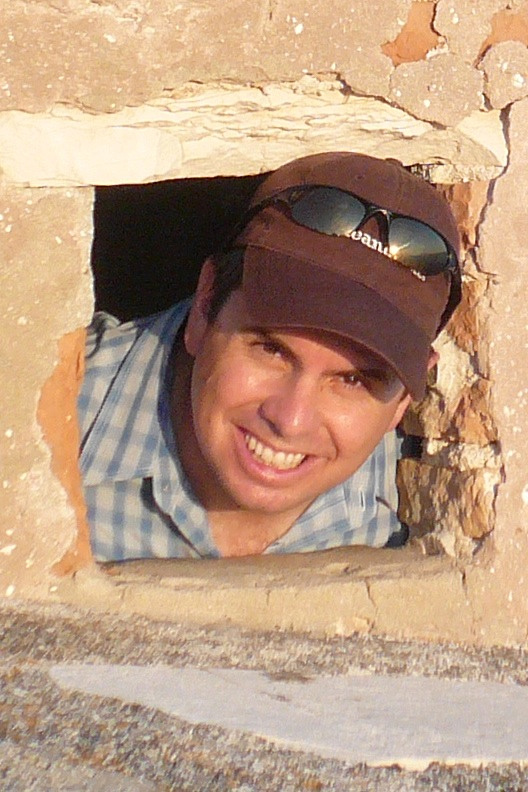 Here I am checking out the view from one of the tower "windows."
Now, all the climbing and hiking up stairs on the wall route tends to make one a bit parched. (We were there in the summer.) It seems that they have some marketing geniuses in Dubrovnik. Here is some evidence of that:
Kind of makes you want some ice cream doesn't it? (I know what you are thinking...)
Any way, we came across this sign: (I'm sorry it's out of focus...)
And we found this bar hanging on the outside of the wall:
Where we took a seat and recharged our batteries.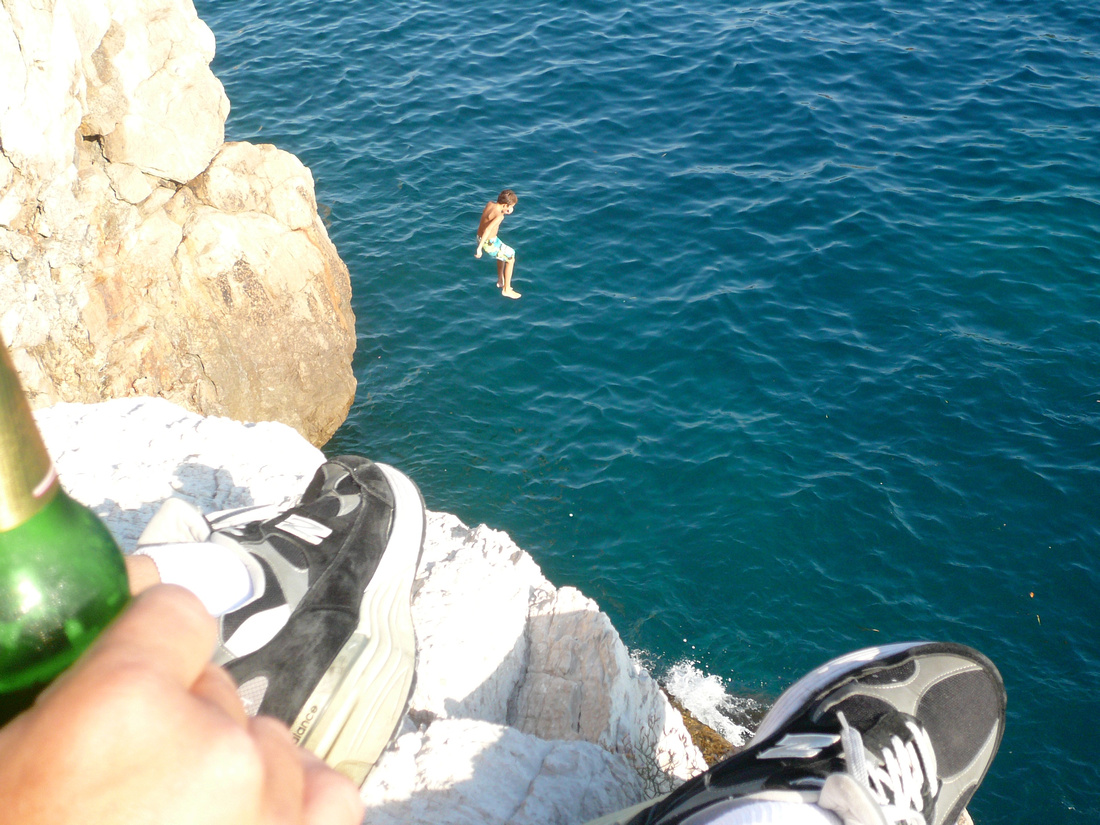 Here in the US our local sport is baseball and basketball. The equivalent pastime in Croatia seems to be waterpolo. Instead of public basketball courts, you find waterpolo "courts" set up in he Adriatic. The Adriatic Sea is a wonderful "swimming hole." Warm, deep and clear – everybody seems to find time to jump in. While we were recharging our batteries at the bar on the outside of the wall we decided to take a plunge. I'm not a big fan of jumping from great heights into unknown waters (part of some deep seated self preservation instinct) and we were looking for a reasonable perch from which to jump from. After I secured my spot, I looked up and a 9 year old girl jumped into the water from a spot at least 15 feet higher than I was working up the courage to jump from. Made me feel a bit inadequate.
While we were sunning ourselves on the rocks like a bunch of seals, we watched super-yacht after super-yacht cruise by. I definitely have to get one of those…after I make a bazillion dollars that is..
The three days I spent in Dubrovnik were fabulous. They had pizza, wine, amazing scenery, and refreshing water. What else is there? The only thing that would have made it better is if my wife were with me. (I was on a BUSINESS trip, after all…) I look forward to the time when I can share Dubrovnik with my wife and daughter. If you EVER have a chance to visit this fine city, JUMP ON IT!